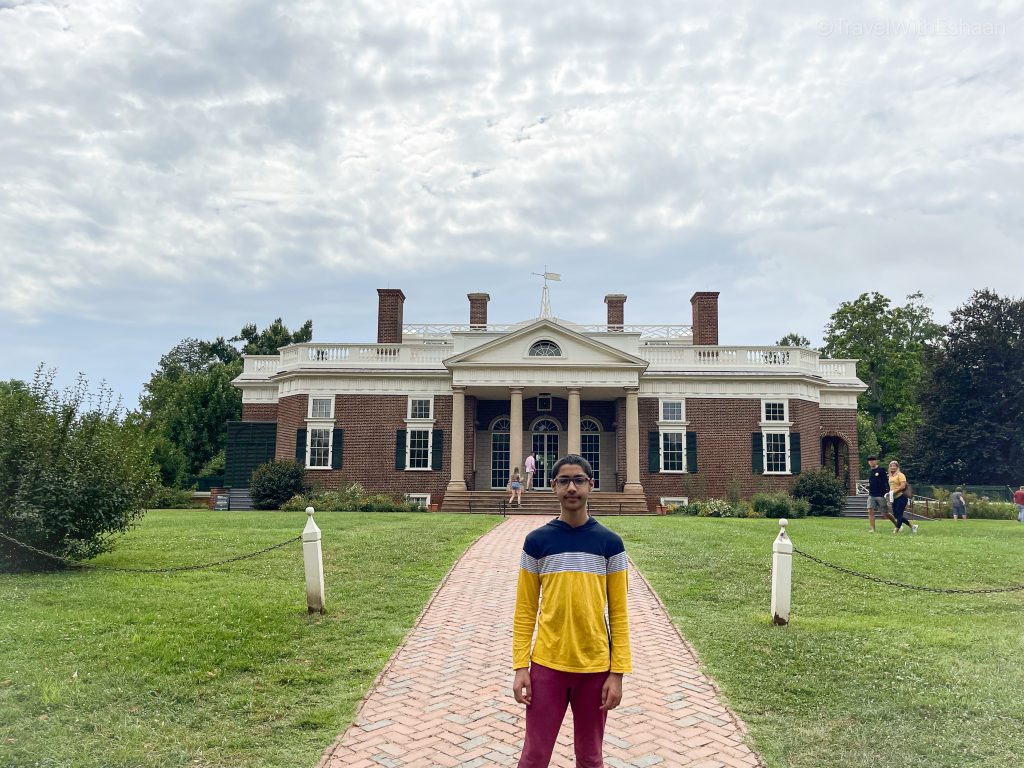 Monticello is the former house of Thomas Jefferson. It's located near Charlottesville, a Central Virginian town that contains the campus for the University of Virginia, and many historical sites (Central Virginia was the former home to three presidents – Jefferson, Madison, and Monroe). We wanted to visit Charlottesville since we were deterred from visiting the previous time.
It was August 2017, and we planned to visit Charlottesville. We would see Monticello, as well as the University of Virginia (UVA). Our first stop would be at a local restaurant, the original Peter Chang's, which serves Chinese Sichuan cuisine (close to Indian cuisine with many vegetarian options). People who live in Virginia may be familiar with Peter Chang's story, which is linked here. As we were enjoying a delicious meal at the restaurant, we came to know about the now infamous Unite The Right riots, and were advised to cut short our trip. We decided it would be safest to return home and visit Charlottesville another day. Little did we know that it would take us another four years for us to come back.
Which brings me to 2021. After packing with help from my travel checklist, we were ready to go. Since hiking was also an option, we had prepared hiking boots and hiking backpacks. We also made sure to bring ample water, electrolyte powder, and energy bars. Make sure to check the Monticello website to make reservations beforehand, and to check availability.
Since we were traveling from Fairfax County, at the outskirts of D.C., we had a long way to go, and lots of time to spend. Our drive started by ordering bagels nearby – a good breakfast would manifest a great day. After eating, we got on our way. The car ride was rather uneventful, and as the countryside rolled by, I relaxed and watched cows and horses and fresh green grass.
Other than a few bathroom breaks, the ride went very smoothly. It was only when we arrived at Charlottesville when we ate. It was at a small Mexican restaurant near the University of Virginia called Guadalajara Mexican (located near Jefferson Park Avenue), where I enjoyed tacos and quesadilla. We discussed our options for the day:
1. Visit Monticello
2. Visit UVA
3. Go hiking
In the end, we decided to spend the afternoon hiking near Monticello, and later we would visit UVA. On the short drive to the hiking destination, however, we decided it would be optimal to visit Monticello, since we'd already come so far.
The hike to Monticello was a wearing one. Monticello is located on a small mountain near the Blue Ridge Mountains, and so it wasn't a cakewalk to get to the visitor center by any means. If you wish to skip this journey, you can access Monticello by car, but we thought a walk would allow for a more authentic experience. Greenery dominates the landscape of the trail, which is extremely well kept – fully furnished with wooden planks throughout the route. It took approximately 45 minutes for us to reach the visitor center, which was on top of Jefferson's Hill. At the visitor center is a historical center, which houses many of the artifacts formerly in either Monticello, or otherwise elsewhere throughout America. We also got tickets to a self-guided tour of the house. It costs $35 for adults and $10 for kids, but even though it isn't cheap, the experience is worth it, and the money goes to preserving Monticello.
The historical center was quite amazing. It held blueprints to Monticello, as well as Jefferson's own notebooks, maps, chairs, and silverware. How they got such an extensive collection is beyond me. We also watched a short film about slavery in Monticello, which, though less cheerful, did give me lots of info.
The most interesting part of the museum was the scale model of Monticello, which showed that the building was actually quite small. When compared the palaces of his European counterparts, Jefferson's home looked quite modest, but that isn't to say that it was a small build by any means. Construction of Monticello spanned over most of Jefferson's life, as construction was from 1768 to 1809.
We learned loads about Monticello in the museum, especially that Jefferson was extremely invested in Monticello. He engineered many of the items in the house, which include a custom clock that tells both the time and the day of the week, and a great reclining chair.
Afterwards, we took the bus shuttle to Monticello. It was located another half mile up, and we were thoroughly tired after the long walk. Almost immediately, Monticello came in view.
My first impression was "Wow, this is amazing," It did, in fact, look almost identical to the Monticello from pictures, the one I was accustomed to. I wasn't expecting two things: firstly, Monticello was way smaller than the Monticello in my imagination; it's actually the size of a large mansion, as the surrounding lands and mountains far eclipsing the projection of the building.
My second surprise was the amazing view from the top. When I thought about Thomas Jefferson's pre-revolutionary life, I thought "Southern lowland plantation", which was partly true – many of the lands nearer to Charlottesville used to be Jefferson's. However, Monticello felt like a polar opposite, as we could see the great mountains surrounding us. In the far distance were the monotonous repeating fields of agriculture I'd gotten accustomed to during the trip. There were three reasons why Jefferson chose this location. It was high and had great views – an excellent choice for his retirement, but it would also be too far for his enemies to reach him. It was also close to UVA, which was one of Jefferson's lifelong dreams.
We had a thirty minute gap until our tour, during which we toured both the gardens and took photos of Monticello itself. We also saw the slave quarters, which were inhumanely unsanitanitarily cramped when compared to the mass of brick and marble, Monticello.
Afterwards, we took our self-guided tour, which, though short, was packed with historical information. We viewed the rooms of the first floor, which included the library, the bedroom, the lobby, and the entrance room. The entrance room and lobby were unreasonably opulent, decorated with marble and porcelain, as well as busts of important men of the time. The bedroom and library were clearly for Jefferson himself, and weren't nearly as lavish. To gain more information about Monticello, the self guided tour had QR codes plastered on the side of every room, which we could scan for more information about Monticello.
However, we still hadn't explored the kitchens and many of the slave quarters. It was quite depressing, thinking about how people were held in bondage at that very spot, but it was necessary to realize that Jefferson was no charitable character when it came to slavery. There was a exhibit about Sally Hemmings, whom Jefferson had a child with, though we didn't visit it.
Jefferson was also greatly influenced by the French. He was foreign minister to the nation, and admired French culture, architecture, and cuisine. He even created special menus that were a mixture of French and Virginian, which I learned about in the kitchens.
We eventually had to depart to the visitor center, and on the way, we would visit Jefferson's grave. It was a short walk to the graveyard, enclosed by 12′ high fence. It was impossible to get in, but people still paid their respects to him. His grave notes his three most important creations:
Drafted the Declaration of Independence
Created the Virginia Statute for Religious Freedom
Founded the University of Virginia
Though Jefferson had a few flaws, he was crucial to the founding of the United States of America. He was the third President, a foreign minister to France, and a great philosopher. UVA is one of the largest universities in the United States, and in the end, his contributions shine more brightly than his misgivings.
We returned to the car after a long and exhausting walk. My sister was drained afterwards, and she was unable to walk much more. We first visited the campus of the University of Virginia. I hadn't ever visited a university town, and was extremely surprised to see how central the university was to the health of the town. We drove around a little, and a recurring theme was Thomas Jefferson. His name, architecture, and statues were plastered everywhere in sight, which was no surprise, considering he was the founder of the university. UVA is special for me since my dad studied at UVA, and my mom worked at UVA. UVA has many world-class schools. Their law school, Mcintire School of Commerce, Department of Politics, and Darden School of Business, are a few distinguished divisions that consistently rank in the top three schools in their categories.
After our time at UVA, we took a short drive to Charlottesville's downtown mall. After parking at a nearby parking lot, we entered the downtown mall, which was extremely lively and pleasant. Unlike Monticello, which was as alive as its former owner, Downtown Charlottesville is dynamic and active, a great place to spend an evening. It's also extremely friendly; total strangers will greet you like they're your best friend, completely unlike the huge metropolises of the east coast. With such friendliness, it was no surprise that Peter Chang set up his first store in the town. The downtown mall is a great place to relax. It features an auditorium, great restaurants that feature international food, and a free bus connecting it to the rest of Charlottesville. It's extremely pedestrian friendly, and the streets are often filled with people. We ate pizza and dumplings in the shops. Afterwards, we explored around, and saw something called the freedom wall, a chalkboard where you can write anything on your mind, barring a few restrictions. Eventually we had to return to the hotel we'd booked for the night, but not before stopping for ice cream.
Things went smoothly in the hotel until around 11:00 in the night. My sister started crying, apparently in physical pain – never a good sign. She signalled it was a tummy ache, but in the end, we found out that she'd overexerted herself the previous day, which was no surprise – the route totalled 4.5 miles, way too much for a four year old. We got ice packs for her, which relieved her pain. After waking up slightly later than planned the next day, we packed our bags and returned to the car after a short breakfast at Bodo's Bagels.
Though it wasn't perfect by any means, our day trip to Charlottesville definitely qualified as a success anyhow. I learned a lot, both about the University of Virginia, and Thomas Jefferson. I also experienced the friendly atmosphere of downtown Charlottesville, and enjoyed the city. Though we experienced hiccoughs on the way, our ride through Charlottesville was generally a smooth one.
Tips:
Charlottesville's downtown mall has some amazing food, especially foreign cuisine, since it has such a diverse population. If you ever go, make sure to eat there.
Hiking to Monticello is the more satisfying and educational route, and it allows you to pass by Jefferson's grave. Just keep in mind that it takes more time, and might tire you.
Try to spend some time near Monticello, and ask nearby volunteers about the house – they're quite knowledgeable.
Food options at Monticello are extremely limited, so it's a great option to take food from Charlottesville, and eat a picnic in the grounds. Just make sure to throw away the trash.

UVA – don't visit UVA and Monticello on one day, since UVA has so much to cover

If you want to extend your trip to Charlottesville, Central Virginia features many Vineyards, mountains, and historical sites.

Another way to extend a trip to Charlottesville is by visiting the residences of Monroe and Madison, who both lived near Charlottesville.