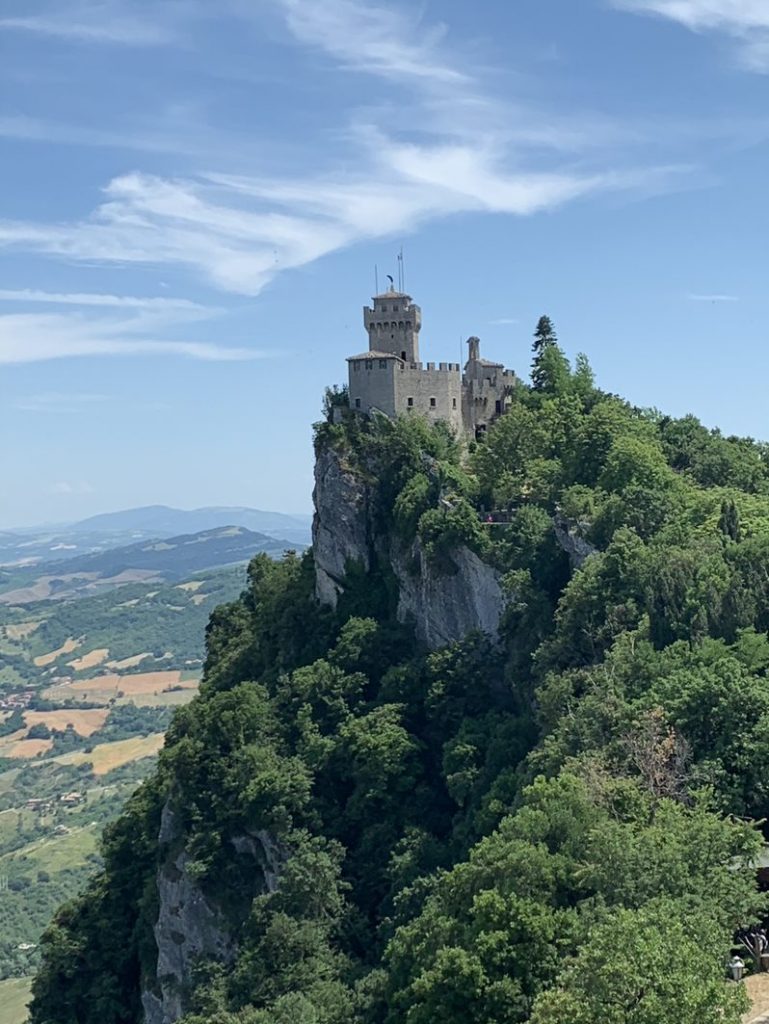 "GET UP!" My dad shouted (he did this as quietly as he could in an attempt to keep my sister asleep). I was still in deep sleep, and it took me a few long minutes to come to my senses.
"Wh-wh-y are we waking up so early," I asked, stifling a yawn.
"The train to San Marino comes at 6 A.M"
"Then why are you waking me up at 4?" I said groggily
"We need to order a taxi, be early to the train-"
"Be early?" I interrupted
"Yes, for the same reason we need to be early to a flight'
"Ok"
"-and we need to eat breakfast, and get past security"
"Fine," I relented.
By now, however, my sister had woken, and was starting to cry, so my dad ran back to the other room, and passed her the huge lollipop that we had bought a few days before. By now, this lollipop had lost about a quarter of its size, and it still went strong when we left Rome.
The morning went almost exactly the way that my dad had pictured it. We got ready, and ordered a taxi to the train station, which was huge, modern, and made of glass. From there, we ordered a little food at the local McDonalds, which was always a safe bet for food. During this time, I looked at the departure and arrival table, which I had done countless times in the airport, but barely once in a train station. The board was covered in one company's name: Trenitalia. It would be the company that we would be using, and it serves many routes. In a way it was like the mainstays of Delta, United, or American Airlines of the Italian train industry. We continued to security, which was considerably faster than airport security, and by then, we were at the home stretch (or so I thought). We got into the terminal for our train (I had done this countless other times in the metro), and waited for it to arrive. By then, I was energized, and felt as if I was caffeinated in anticipation for the day ahead. We waited in the benches in silence (the exception was my sister, who played a color clicking game, while sucking on vanilla milk).
"Look! The train's here!" I said. Nobody really needed that reminder, however, as everyone had heard the gushing of wind that was a prelude to the arrival of the train.
I beckoned my sister to get up, and after she obliged, we entered the train, which was usually a mini logistics problem in and of itself. However, this time we were only bringing a few items, because it was a day trip. The train was similar to the other long haul trains that I had seen before, but instead of the seats facing each other, they seemed to be designed for a family. Four chairs faced a central table, two on each side, with a huge glass pane as the window. It almost felt like a more spacious and comfortable airplane, which didn't say much (you'd know this if you've ever been on an airplane).
It didn't, however, feel as luxurious three hours into the journey. Since we were traversing nearly half of Italy, the trip took a long time, and so I was left sleeping for most of the time, which really gave me airplane vibes, if you know what I mean (infinite boredom, failure to feel lethargic when most needed).
But it would only be a single hour of mundane nothingness until we reached our destination. Or at least we were halfway to reaching our destination. See, there were no direct trains to San Marino, so the only place we were able to go to was a town named Rimini, famous for its rocky beaches.
"How do we get to the bus from here?" my dad asked himself. We had been pointlessly walking around the town for about a quarter of an hour, and still had no sign of finding the tickets, or the bus stop for the bus to San Marino. He looked back at his phone, which apparently gave him the answer, judging from his satisfied look. We entered a road junction, crossed a road, and entered a convenience store. My dad exited the store looking like the happiest man on earth. He had received the tickets! We just had to wait at the bus stop, a five minute walk away, and the bus would come to pick us up.
The bus eventually picked us up, and on the way, we met two tourists from Belarus, a nation ruled by a dictator, so it was interesting to talk with them. Tourists come from everywhere. They came to Rome, but because of the heat, they were taking refuge in Rimini, the town that we stopped by, and because of its proximity to San Marino, they were taking a day trip there, just like us. We were at the home stretch of getting there, and I was hyped up for what was to come. I looked at the fields that we approached, and saw that we were getting higher into the Apennines. We began our ascent, and I thought about the trip ahead, and compared it to other micronations that we had gone to. So far, our experience resembled our trip to Liechtenstein, whose defining moment was a steep ascent into the Alps. However, I knew that the Apennines were a much lower mountain range than the Alps by observing my surroundings, and I hoped that meant that the weather would be a little warmer. The Alps were a little too cold for my liking. When we arrived, it seemed like my idea was generally correct. It was warmer than Liechtenstein, and there was a small, dominating town. However, when we ventured to the heart of the nation, I was better able to draw parallels to the renaissance area of Rome, because of the sandy texture of the buildings, and the architecture clearly designed to attract tourism. The seventy degree weather, however, made all the difference. If we had been walking as long as we did in San Marino back in Rome, we would be panting with exhaustion, probably indulging in some Venchi's ice cream. But there was no need for ice cream in cool, sunny San Marino, where we indulged in the refreshingly warm sun, which suddenly felt welcoming.
"What shall we do?" my mom asked. I didn't know any attractions in the micronation, so I assumed that the old town would have something for us, as Rome's did, and so did my dad and mom. We were already quite near the old town ( everything was close in San Marino), so we turned towards the rather steep hill face, and started our ascent, but before I turned around, I noticed the beauty of the mountains.
"Can we wait here for a moment?" I asked. "I want to look at the mountains for a little while."
"That's exactly what we were doing a few moments ago," my mom replied.
"Oh," I said. I indulged in the view anyways, waiting for a moment. In hindsight, the hills in San Marino were almost identical to the ones of Liechtenstein, sparing a few details. They were grassy during summer, and probably snowy during fall, and were very steep. The only difference was the latter was more rough, with steeper and colder hills.
By the time I had turned back to face my parents, however, they were almost at the end of the road calling for me. I rushed back, and got scolded a little, but I thought it was worth it for a nice view.
It turned out that the old town was very scenic, with two story white houses topped by red roofs of clay. We slowly walked through the area, with a vague target of the center of the city. We passed a few statues (my mom stopped and snapped "quick" photos-these photos actually took a few minutes), and a few signs, but the route to the center was otherwise uneventful.
"Now that we're here, what do we do?" I asked.
"Look at that museum!" I added. It was a museum of medival torture items.
"I don't think we should go there," My dad replied. "It probably won't be worth it."
We all agreed not to visit, and considering some experiences we had afterwards, it was a good idea. A sip of water later we were back on the road…but to where? My dad said he knew where to go.
"There are a few castles near here that you might want to see," he said, after we had walked for a little while inside the town.
"Ok," we replied.
But we were taken off our track when a distraction appeared. It was some type of soccer club, or so we thought. It turned out to be just a club, and looking back, I highly doubt a soccer club is a real thing unless you're talking about club soccer.
"Look here!" my mom remarked, suddenly distracted. I could see why she was feeling that way. The view that was the result of the high mountains and flat countryside was breathtaking. I could almost, almost, see the ocean from our mighty perch upon the mountaintop. It felt like being a king.
"Hi! Can you please take our picture!" My mom asked someone. That person was holding a huge camera, and when that's the case, you can bet that either my mom or dad will ask them to take a family photo for us. This time, however, we hit the jackpot.
"Yes!" The man responded. "I'm actually a photographer," he said conversationally.
My parent's faces lit up for a moment, and they strained to hold that smile for the family photo (it admittedly wasn't perfect, as my sister was crying in all of the photos, except one, where somebody moved), and when it was all done, we got some of the best photos we ever had received from that camera.
After that success, we continued on our journey towards the castle, which soon became trying to find the highest point in the country accessible through roads; the castle was high up in the mountains.
"Look there!" one of us would say occasionally. The scenic town was too hard to resist, so we took many breaks during the journey. I can certify that it didn't help the travel time, but it was good to see the area, and take in the surroundings.
"Look here!" I said. We had walked for at least an hour in a nation smaller than the smallest state in the United States of America, and we still hadn't found any sign of the castle. That changed when I literally found a sign about a castle. "There are three castles, so should we go to the nearest one?"
"Yes," replied my mom. My dad was getting tired from pushing my sister's stroller all day, and so the less we had to walk, the better.
"Ok," I replied.
The walk there was quite scenic. The mountains were more visible from the mountaintop that we were perched on, and so we spent quite a lot of time taking extra photos. By then we still had about three hours left, so we figured that we were in no rush. My sister, however, had different ideas about spending time. Ahead of us was a slide, and we knew what would happen next. My sister swooped up with great agility, and promptly wasted about a half hour of our time, but the amazing thing was that she managed to get herself hurt in that tiny window of time. A few minutes into sliding like there was no tomorrow, my sister fell off the slide, a very difficult task, and cried for five minutes more. I thought it was a waste of time. On the other hand, the slide did look quite fun.
"Can we go now?" I asked. My parents were more than happy when I asked this, and we left for the castle.
"Look here!" My dad said. All I saw was a broken wall, but my dad's reading seemed to have paid off. We were at a ledge with a lethal drop below us on one side, and on the other side was the safety of having solid ground below us. Of course, the one with a good view was the former, and of course my dad would choose me to join him for a photoshoot (my mom stayed well away from the mountainside.) I looked down. I wasn't usually scared of heights, but this was a major exception. It felt so unsafe, I didn't know if I wanted to get the photo for a good minute, but after looking back up again, I saw the photo. I saw the photo. The one with the castle that is the backdrop to any atlas photo of San Marino, surrounded with grassy green trees upon what looks like a cliff but is actually a mountain. I saw that very photo with my own very eyes. I was THRILLED. We got the photo (a tedious process, as we had about a yard of leg room), which wasn't as glamorous as the ones in the atlas, but we knew that those photos were taken with a drone, a vastly superior photography tool in that scenario. But I didn't care about the photo. I was simply satisfied with the one photo we got. A photo that will stay in my mind for years and years to come. After visiting that fortress, I thought that even if we didn't do anything else during our whole day trip, even if all we did after that was go to the plaza and watch paint dry, I would consider this day successful. Yet in this period of jaw dropping and nauseating views, we forgot to keep track of one very important thing. The time.
"Come on! We have 45 minutes left! If we don't come soon we'll miss the train! Come quickly!" said my mom.
We got off the ledge (I breathed a sigh of relief), and then with a burst of speed, I ran a good 50 feet to the playground. I looked back. My mom was still there, now shouting at me. I looked to see what was causing the wait, and it was the stroller. Of course.
If there is anything that can make a five minute trip a thirty minute journey, it is a stroller. It just decreases your mobility in every way possible. There's no other way of stating it. You want speed? Well sorry, It takes a lot of effort to push a stroller. You want dexterity? Nope, strollers and steps don't go together. Do you want to be allowed in tourist areas? I'm sorry to break it to you, but most palaces, museums, and ruins do not allow strollers, at least in Europe. Strollers just feel like a big pain in the head whenever I travel, but there is a flip side to the equation. If we don't bring strollers, we run the risk of having to carry my sister if she gets tired, which would crash our schedule. As a rule of thumb, multiply the child's age by ten to get the number of minutes you can last without a stroller.
Yet even with a stroller, and with almost no mobility, we were able to maintain a jogging speed, and this was thanks to the weather, which stayed at a perfect seventy degrees. The other reason was that we were going downhill, which helped greatly when using the stroller. To make sure my sister wouldn't interrupt our running, she was given the lollipop, which had managed to stay intact, and it didn't seem like she was going to finish it anytime soon. We rushed down ramps, ran down steps(an almost impossible task with the stroller), and navigated through the maze of streets, but it all paid off, and we were actually early. With fifteen minutes to spare, we squatted at the bus stop.
Ten minutes left.
Five.
One.
Ten seconds…
9, 8, 7, 6, 5, 4 (shouldn't we be hearing the bus by now?)
3… "Is the bus late?", my mom asked
2… Probably, I thought
1…
0…
The bus was late, and we had nothing to do but wait. Apparently that bus had a flat tire, and we resumed our vigil of waiting.
But finally, the long awaited sound appeared.
RRRRRRRR!
The bus had arrived.
"Go! Go!" My dad said, pushing me into the crowd. I was confused. Why was my dad doing that?
I turned to face him, but he explained himself before I could say anything.
"If you don't get there, we'll have to wait another fifteen minutes for the next bus!" he shouted over the raucous crowd.
Perhaps it was my size, or my disregard for manners at the time, but I found myself in the front of the line (or more accurately, a blob of people). I quickly called for my parents, and we got ourselves a seat in the bus.
We took the bus back to Rimini fully knowing that our overlay time had been reduced by fifteen minutes (twenty minutes after someone had to get off during the middle of the journey). However, that would become the very thing that would stab us in the back.
"We're almost here!" I said, my face planted in the window. Bus rides are a great time to take in the scenery, unlike a certain form of transportation which starts with an a and ends with an e (hint:airplane). My dad agreed, though he preferred to watch at a further distance.
We got off after an inevitable stop (my head conked on the glass), and we got off at one of the last stops.
"Does anyone want to look around Rimini?" My dad asked. He surely did, because when my mom said she wanted to, my dad agreed. We heard pop music, urban buzz, and cool air. I thought of Rome, and silently groaned at the sweltering heat there. My mom agreed. She said afterwards that one of the best things in San Marino and Rimini was the weather, and I fully agreed.
"OH NO!" My dad said. His face was stricken. You could tell that something had gone horribly wrong. I saw he was looking at the time. "We have fifteen more minutes to get to the station"
That wouldn't be hard without a stroller, but we had a stroller, and we also had fifteen minutes. We made the best of them. We ran almost as fast as we had in Rimini, reaching the station in a record ten minutes, panting.
"Did we miss it?" I asked, holding my legs and gasping for breath.
My dad pulled out the phone.
"Five more minutes," he said. We ran harder than we had before, reached security and waited. It felt like those thirty seconds for every item we had would cost us our journey, but luck was on our side. My dad checked his phone yet again.
"Two more minutes"
My heart dropped. There was no way we could get there on time.
"What's the platform number?" By now I wasn't even keeping track of who was saying what.
"8."
"Eight's just ahead!" I said, pointing to a sign (platforms 8-9), which was, to quote myself, "right ahead".
It looked as if the next few minutes would be make or break.
We rushed to the sign and turned.
Steps.
We could only run from here. Stopping wouldn't slow the train.
Thirty seconds later (it felt like a day had passed), we were on a train, thankful for getting there on time. We went to our seats. It was occupied. We asked the people to leave, but the answer was no. We showed them our ticket. Something felt wrong.
"Our train number is 9385," the lady explained. "Yours is 9832."
We were on the wrong train.
"So we did miss the train," I said miserably.
But looking at the tickets again told a different story.
Our train left at 3:16 PM, one minute later than the train we boarded. We wondered why the time was off. It wasn't a quarter past three, but it was one minute past that. However, every second we thought took us an extra mile away from the right route. We racked up all of our brains, but came up with nothing, but to tell the train attendants (or whatever you call them) about our predicament.
Again, we breathed a huge sigh of relief. The train would be going to Rome…with a catch. And that catch was in Florence (Firenze), Italy. This train had multiple stops, while our train was a direct route. This would cost us many hours of sleep.
Many sleepless hours later, we had already stopped at Florence, and we were getting very bored. My mom didn't have her phone with her, as that was with my sister, who was playing a coloring game (Color the turkey! Which color is b r o w n? -the brown bit was in slow motion). I was playing with two straws we had, and my dad, who had his phone with him, couldn't do anything without wifi anyways.
7:00. I was having trouble sleeping because of the freezing A.C and bumpy train, so I was left playing my fingers, and remembering the day. We had already exhausted any topics for discussion, and boredom was at an all time high.
It was too dark to look outside by now, so I checked the time. 10 PM. That might not sound that late, but I usually slept at 8:00 sharp, at 7:30 if the day was physically taxing, but that day I had woken up at 4:00 AM, and had one of the most hectic days of travel in my life. I was practically a walking zombie.