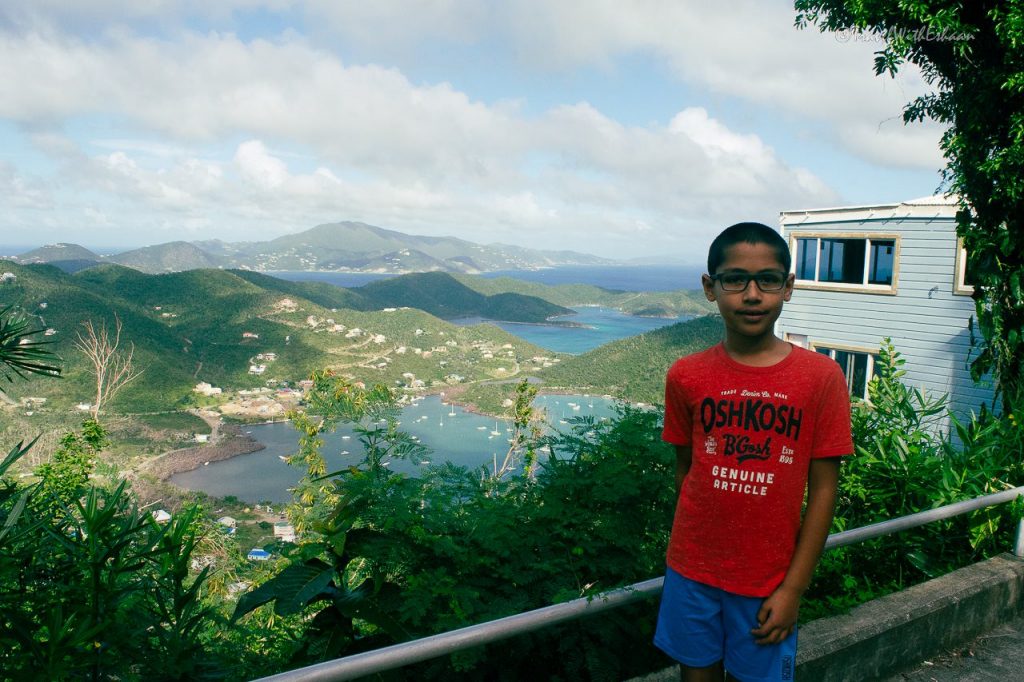 Our experience in the US Virgin Islands was a solid 8/10. Not because of a lack of natural beauty, but firstly because it was an average experience, and secondly because we got sick.
It was evening when we arrived at St. John, since we had to take a ferry ride from St. Thomas, where the airport was located. The ferry ride was well worth it, because we saw the land features of the US Virgin islands. Our Airbnb was nice, especially since we were tired. It was mainly a commute day, and most of our energy had been spent getting to St. John, so we did very little. 
Our first destination the next day was Trunk Bay, which is a beach with a few islands surrounding it. It was extremely crowded, but we got a full view of an island, and we also played at the beach. Was it worth the time? Perhaps.
It was also the last destination of the day. The water in our Airbnb had made us seriously sick (the hurricane had made the water undrinkable, and some residue had remained after cleaning), so I spent the night itchy and uncomfortable. Not pleasant at all.
The next morning, we did nothing, since we needed to recover. Instead, we stayed at the Airbnb. Eventually, we felt brave enough to get out. We went around St. John, though due to recent hurricanes in the area, around half of the trees lacked leaves, or were dead. It was a peculiar sight, seeing a half forested forest. We drove up to Bordeaux Mountain, a peak with a view of the islands and peninsulas of St. John's. Sometimes the smallest landscapes are the most beautifully complex. For example, the view from Bordeaux mountain contained an island, two peninsulas, and even (I think) a spit. Afterwards, we explored the beaches of St. John. From Maho Bay to Cinnamon Bay to Hawksnest Beach, each one resembles a stereotypical Carribean beach, except that these beaches usually also have a good view of a few mountains. The best part was making huge sand castles, and enjoying the water.
That brought us to the end of our trip in St. John. We returned home, where we looked at a road on a hill, which had a 45° angle. I wanted to climb it, but I thought it might be too dangerous. The next day, we took the ferry to the British Virgin Islands, where we would visit many islands, underwater caves, and white sand beaches.
We visited St. Thomas after visiting the British Virgin Islands, but only to get to the airport. We had a little bit of time between our flight and when we arrived, so we decided to visit Emerald Beach, which is located in a resort. We wanted to visit a different beach, but due to the hurricanes, our taxi driver advised us against it. The only notable thing about the visit were seashells. The resort must've literally dumped them throughout the shore, because I could literally find them wherever I walked, making getting around quite painful. After a relaxing visit, we left, never to visit the Virgin Islands again.
Tips:
Visit St. John, since it is the island with the most natural beauty, and is closer to St. Thomas than St. Croix.
Drive on the left in the US Virgin Islands.