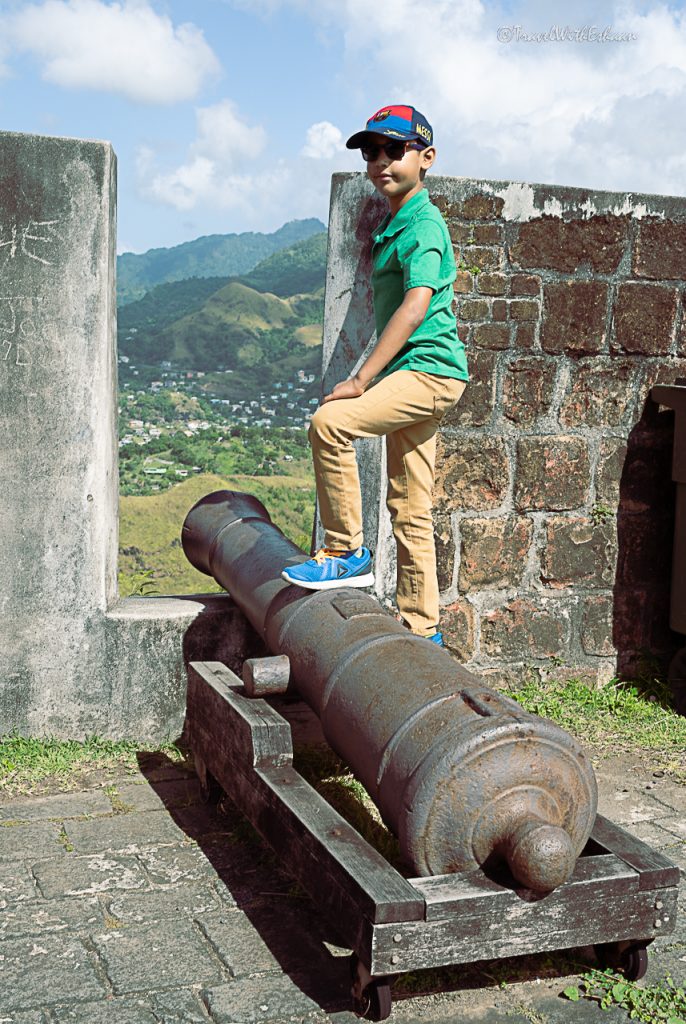 Another day, another Caribbean nation. That's how life goes on the cruise. St. Vincent and the Grenadines is a small island nation in the Lesser Antilles.
We began at Fort Charlotte. It is on a hill overlooking Kingstown, the capital. We took a bus to get there, and it was a small place. The main feature of the fort was the cannons overlooking the island, which was once very profitable due to its sugar plantations.
The fort had a lot of information about the Caribs, descendants of both natives and Africans. They fought against the English with aid from the French, but eventually lost.
Afterwards, we looked at the island from the fort. Kingstown is a small place, and we could see the whole city from one hill. We could also see our cruise ship, as well as the former volcanoes that created the island.
When we were done with the fort, we took a tour of the island on a bus, which took a while. We went all around the very small nation, and we even stopped at a small black sand beach, but we didn't get off for most of the trip.
One notable part of the ride was the return. Since it was nearing Christmas, there was a Christmas market, which meant horrendous traffic, the likes of which wouldn't have been seen if there wasn't the yearly pounding of hurricanes. There was another reason why there wasn't traffic throughout the rest of the day. At 3:00 AM, from the 16th to the 24th of December, many people of St. Vincent celebrate Christmas. So perhaps there was traffic either because of the Christmas markets or because people were just beginning to rise from their slumber. It took an hour to return to the port.
Even after returning to the cruise, there was a lot to do. Most of it was playing foosball and relaxing on the deck. Nonetheless, St. Vincent and the Grenadines made a great day trip.
Tips:
Visit Fort Charlotte because it's a unique attraction, unlike the beach.