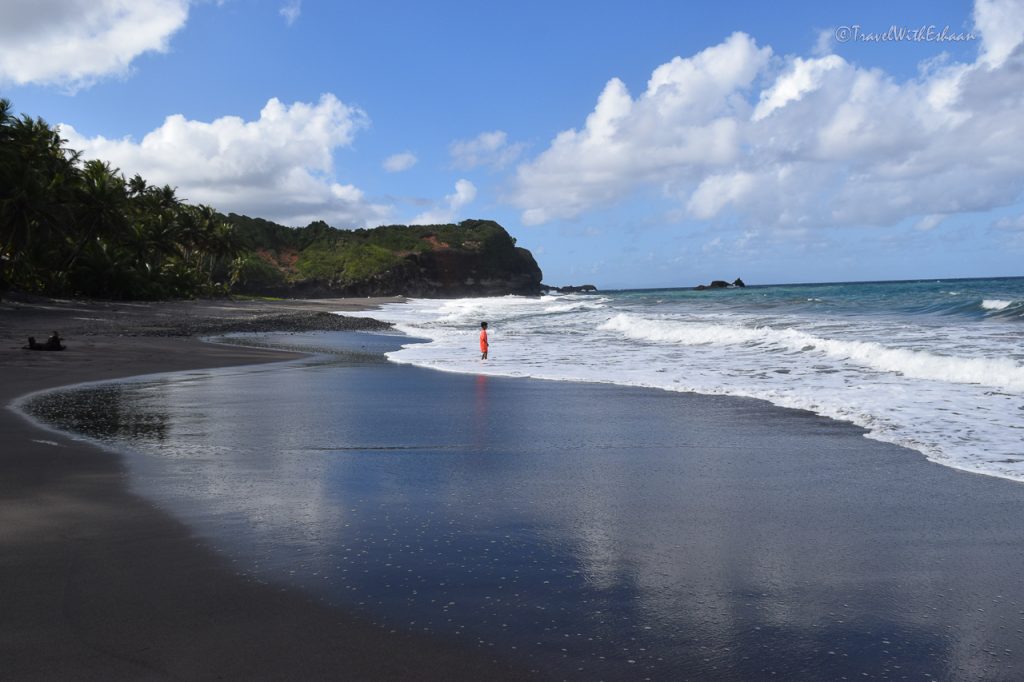 While not the richest country, nor the most known, Dominica is a hidden gem. It is small, and relatively untouched in the tourism industry, except for cruise ships, which only cover the surface of the island nation. There is much more to Dominica than just a day trip. It is one of the best natural sites in the world.
We began our trip in Guadeloupe, which is a territory of France. After spending a few days there, we took a ferry to Dominica. The ferry wasn't the most comfortable way to get there: we all threw up (some seasickness medicine might help), but it was the local way. On second thought, perhaps the plane was the better option. We then got a rental car, and since my dad showed them his American drivers license, he got a Dominican one for five dollars. A great deal if you ask me.
My dad was unable to find a hotel for accommodation, so instead we booked an Airbnb. The location was quite interesting too. It was located on the top of a hill, so we got some great views of Roseau, the capital.
There are a unique set of advantages and disadvantages to visiting Dominica. One advantage was travel time: the whole nation is only 290 square miles, and since most activity is centered around Roseau, we were always only an hour at most from our destination – or we would be if the infrastructure was better. Sadly, a hurricane hit Dominica before we visited. We wanted to contribute to their economy through tourism. The hurricane also took a hit on the infrastructure, and driving at night was a danger we hoped to avoid.
On our first day in Dominica, we decided to go waterfall hunting. Dominica's waterfalls are stunning, but more than that, they are also easily accessible. We trekked through the park, a nice hiking experience, and we reached Trafalgar Falls. Trafalgar Falls is a large waterfall bounded by huge boulders. The hike also showcased some smaller waterfalls, and overall, it was a great experience, and we got to see a tropical waterfall.
After that, we spent some time in a natural pool, and visited a botanical garden. Sounds boring on paper, but in reality, it's much more interesting than it would seem, especially in Dominica, with its special tropical flora, especially the flowers. After that, we visited Titou Gorge, one of the most famous attractions in Dominica due to its canoeing opportunities, but we were short of time, and I didn't know how to swim, so we took a few photos and left.
The next day, our first stop was Emerald Falls, one of the most beautiful falls in the world. It was easy to see why it was called Emerald Falls. The whole surroundings, from the lush trees on top, to the water below was a vivid shade of green. There wasn't even a crowd, as we basically had the falls to ourselves for a few minutes. Out of all the waterfalls we visited during the trip, Emerald Falls would be on the top of the list.
After visiting the falls, we returned to a more orthodox attraction in Caribbean nations – the beach. We visited three beaches on that day, and they were rather similar. First was Pagua Beach. We didn't do much there, and moved on to Number One beach, which was a great place to visit. It was a white sand beach with calm waters, and best of all, we had the whole beach to ourselves. I made sandcastles, played in the waves: the typical beach experience. Then we went to Batibou beach, which was perhaps even better. From the road, we got a view of the beach itself, and the hills.
And then we slept. We didn't do much after going to the beach, as we had done so much that day.
Our next destination was Scott's Head, one of the only isthmuses I've ever seen. An isthmus is a narrow piece of land connecting two larger pieces of land. An example of this is Panama, or the isthmus of Kra in Thailand (and Myanmar). But if you were actually there, you wouldn't know it was an isthmus. Scott's head is different. You could literally touch the Atlantic and the Caribbean Sea within the same minute. It was unique. We took pictures there for a few hours, then bathed in some sulphur baths. Other than that, we actually didn't do much that day.
It was waterfall time again. We went for a hike the next day, this time to the Salton Waterfalls, another beautiful waterfall with a pool great for swimming at the bottom. However, this time I was more impressed with the walk there, when we encountered many different falls, and the lush green colors of the forest made for an excellent hike.
We also visited the market in Roseau. Unlike the pristine, natural, and silent nature that we enjoyed at our destinations, Roseau was bustling and full of energy. We bought some coconuts, and the vendor even cut the coconut open for us so we could drink some. The energy there was very friendly, and it was a nice experience.
Finally, our trip to Dominica ended, but we would return to the nation almost three years later. We didn't do much, as we were visiting on a cruise, but we walked around Roseau, and hiked to where our Airbnb was located. It was an interesting experience because my memories of Roseau were especially faint.
One place we missed was Boiling Lake. As the name suggests, boiling lake is a warm lake. In fact, it is the second largest hot lake in the world after Frying Pan Lake (New Zealand). It was formed when a fumarole (an opening in the crust that spews hot gas) became flooded. The gas rose to the top, giving the illusion that the water was boiling. The water is hot. At near 200 degrees fahrenheit, touching it wouldn't be advisable. We didn't visit the lake due to the hike, which we deemed too strenuous (I was 6 then, so perhaps someone above 8 would be able to make the hike).
Tips:
Ferry: Either prepare for seasickness or don't board the ferry at all
Locals: Unfortunately, hurricanes such as Hurricane Maria (2016) have hit Dominica hard, and so contributing to the economy would be a great thing to do.
Hiking: Dominica has many hiking opportunities, so be prepared for a physical trip
Biodiversity: A trek through the mountains would easily reveal the unspoiled biodiversity of Dominica.
Area: Dominica is quite small, but there is a lot accessible in a small place. If you don't want to travel a lot to see a lot, Dominica is a great place to visit.
English: Unlike Martinique and Guadeloupe, English is the primary language of Dominica, which makes communication much easier.
Make sure to visit Titou Gorge, since it was one of the filming sites for the Pirates of Carribean franchise.