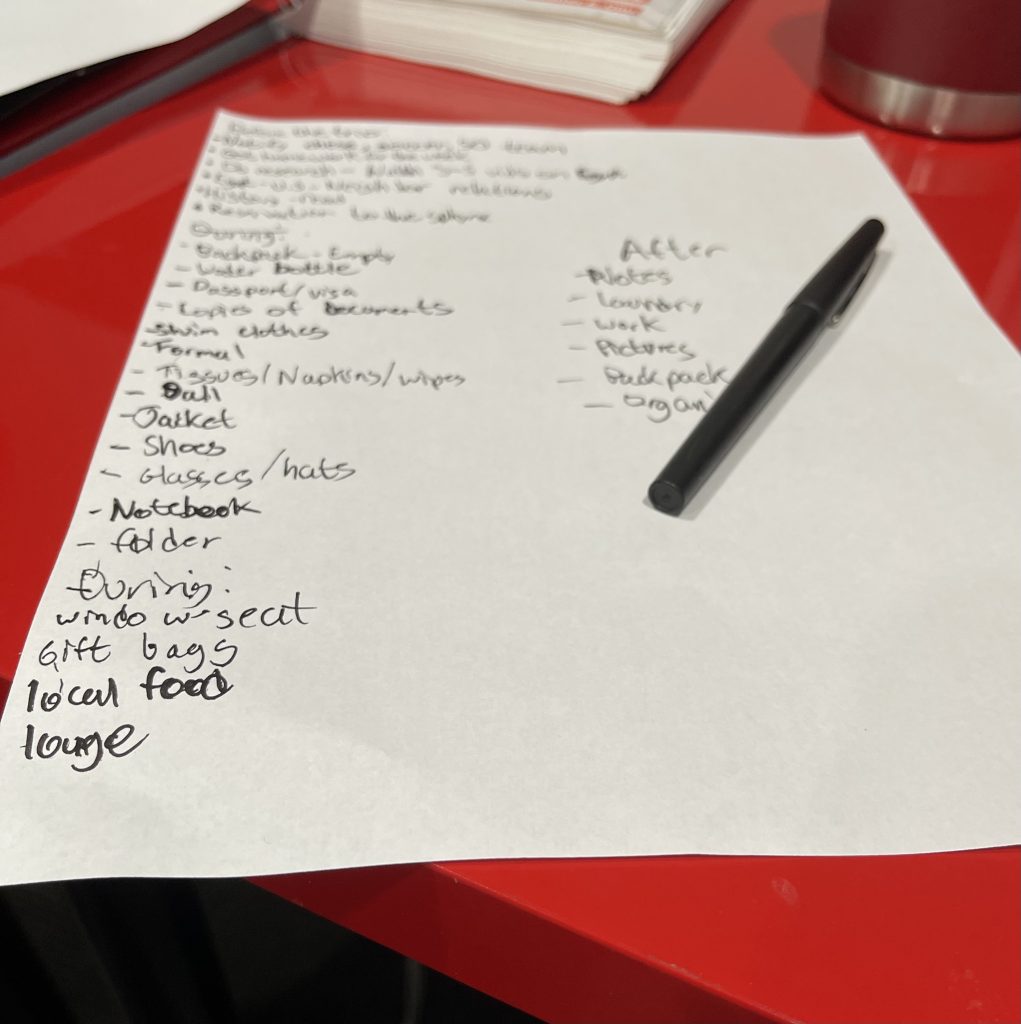 This is a general checklist for your future travels. Use and enjoy!
Before the trip:
Notify your teachers, friends, and whatever groups you're in (chess club, soccer team, Science Olympiad) that you'll be away.
Get your homework for the week to do on the plane. It's better than nothing, and you won't have to do as much extra work when you come back.
Watch videos/do research. Going somewhere is ten times more rewarding if you know where you're going, and why it's important. Rick Steves' Europe is a great source of information if you visit Europe.
It is good to know the nation's relationship with the U.S. and the nation's neighbors. For example, Greece and Macedonia aren't the best of friends, which was useful to know.
Read about the history of the nation you're visiting.
Make sure to ask your parents to make reservations for hot destinations, such as CERN.
Make sure to bring:
A good backpack (make sure it's completely empty before putting things in: I accidentally put a scissor in my backpack in Abu Dhabi)
A water bottle
Papers (passport/visa)/a card to verify your identity
Copies of passport/important papers
Swim Clothes/Goggles (if needed)
Formal Clothes (if needed)
Tissues/Napkins/Wet Wipes
A ball to combat boredom
Jackets (make sure to get the right kind – either snow jackets, rain jackets, or light jackets)
Good shoes
Sunglasses/Hats
A travel notebook to jot down the things you did. Your memory is only temporary, and pictures only capture half of the story.
A folder to put souvenirs in (such as tickets or maps)
Snacks (Energy bars are a good choice)
Food for a day (in case of a plane delay)
A tablet with pre downloaded offline apps so you have something to do.
Books
Travel Clothes (full sleeves to prevent bug bites)
Electrolyte powder (stay hydrated!)
Inhaler/Medicine – if you have asthma, make sure to keep your inhaler near you at all times
During the trip:
Take the window seat on the ride (if possible). This applies for planes, boats, cable cars, and any other form of transport. 
Refresh at the lounge (if you are travelling by air). If you travel often, the lounge is a great investment, because you can recharge in the lounge, something that would cost extra otherwise. 
Make sure to stay together with family. Otherwise bad things could happen. 
Eat local food. It is a great experience, and is very informative. There's a reason why you don't find pineapple pizza in Italy.
Collect souvenirs if you want to. I recommend collecting currency or tickets. 
Visit playgrounds. It's fun, and the locals might be playing native games. 
Keep some change because certain bathrooms in Europe are paid. 
Some airlines give gift bags to kids containing toys ranging from stuffed animals to puzzles, so don't miss on them
Airlines and cruise companies let kids go to the cockpit to see the insides of the ships, so if you're lucky, you might see the inner workings of some of the most complex machines on earth. 
After the trip:
Complete writing any notes about the places you visit
Completely empty your backpack
Do laundry
Check on any events you missed (competitions or school projects)
Catch up on work
Organize trip pictures