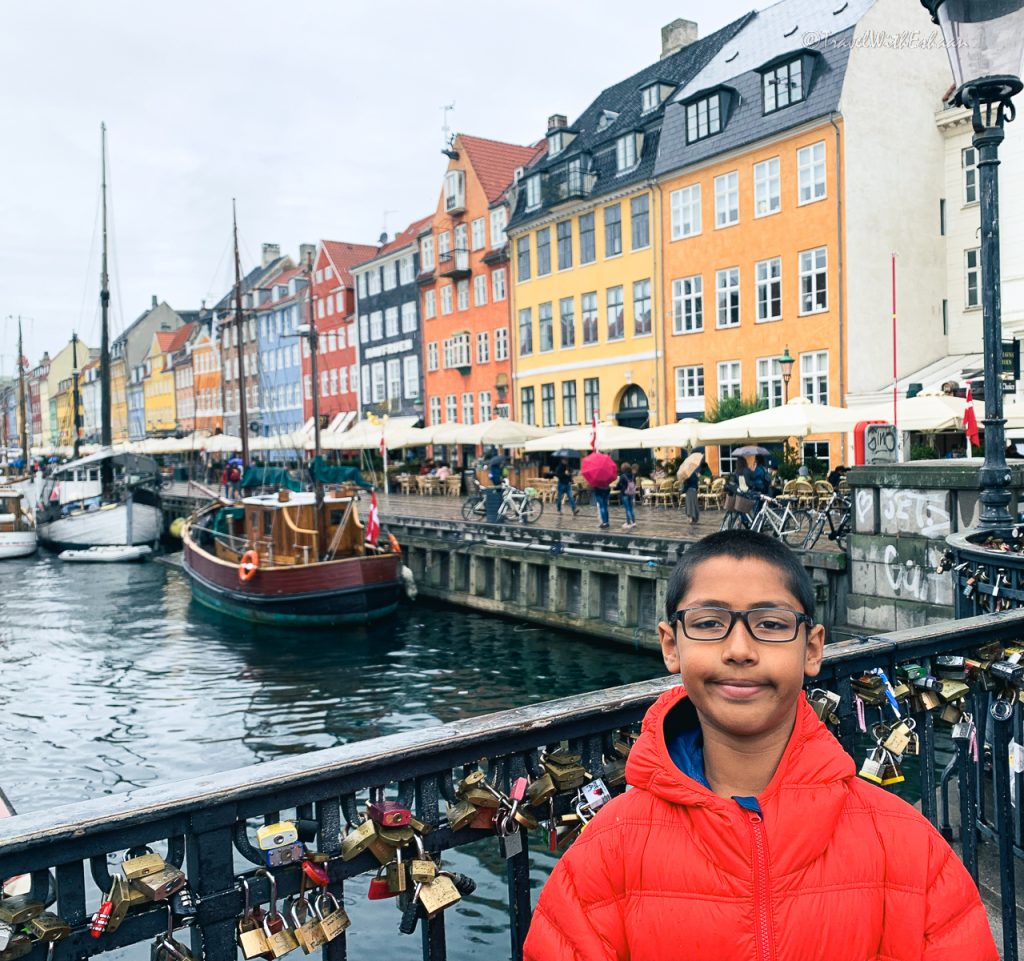 Though we visited Denmark after Norway and Sweden, we actually spent time there in a layover, though it was an insignificant amount of time. Instead, I will talk about my second trip there, where we visited two places: Billund and Copenhagen. Most people reading this will recognize Copenhagen, the capital of Denmark, but Billund might feel more obscure. You might recognise it better as Legoland.
Copenhagen would be a blur. It was a day trip, and obviously, a day trip would be hectic, as we wouldn't be able to cover everything, but this time, we had my mom's cousin Hari Uncle, who lived in Copenhagen to guide us. Before he came, we had some time, so we parked our car in a garage, and walked up. The sky was overcast, and the dreary clouds that blanketed it prophesied rain. It wouldn't be the best conditions for photos, which was a shame: we would be going to Nyhavn, a place in the center of tourist Denmark with one of the most fascinating views in the world (at least that's what I heard). It just wasn't the same with the rain. Yes, it looked intriguing with the canal going through the scenic city, but wasn't that just Venice? I didn't see anything special about Nyhavn, and when an attraction has such similarities to another, a specialty really makes an average attraction a stellar one.
We decided to eat on the friendly looking waterfront. We were done by an hour. My verdict? Expensive and fancy, yes, but also expensive and subpar; the food was presented in a mouthwatering way, and the looks were really the star of the show, but the food itself just didn't feel like it was worth the price, and the sad truth is, eating in a tourist destination practically doubles the costs.
We walked around in Nyhavn, and we probably would've had a better time if it hadn't been raining periodically throughout the walk, but it wasn't long before my mom's cousin was at the meeting place. It was a restaurant, and we didn't stick there for long, having eaten. Instead my parents talked with him, and introduced him to my sister and I.
Luckily, the clouds cleared, and we went through the squares. My mind must've given too little importance to these palaces, because my memories of them were quite vague, but they definitely were beautiful (they would've looked better if it were my first time seeing a palace).
We walked around eating familiar McDonalds food and local ice cream while listening to streetside music. Although I wanted to visit the Guinness World Records museum, my parents suggested saving it for later time in the US as we wanted to visit places unique to Denmark.
We went shopping (I was clueless why), and finally, circled back to Nyhavn, where we took photos, crossed the river, and looked at the modern side of Copenhagen, which I actually enjoyed more than Nyhavn. Before we said goodbye to Hari Uncle, we enjoyed food at an outdoor food court. It was a nice trip, but we were limited on time, and we had to sacrifice some attractions.
Two really pop out when I think of Copenhagen. First is Tivoli Gardens, though our next stop would be Legoland, so was another theme park necessary? Second was the Little Mermaid statue, which we would've visited if we weren't so short on time.
The rest of the day was marked by driving. Just driving (and some strawberries we bought on the way), though our Airbnb in Billund was wonderful (mainly for my sister and I). The room we'd be staying in was quite comfortable. We didn't need too much space, and the room was more than enough for us. What really set it apart was their trampoline and dollhouse. The dollhouse was for my sister to play in, but the trampoline was literally built into the ground: they dug a hole and put it on the top. I love trampolines.
I also love theme parks and legos. The whole reason why we were going to Billund was for me. My sister was too young to truly enjoy Legoland. My parents are the best parents in the world.
And so I found myself in the parking lot of one of the biggest theme parks in the world. It was wonderful, and I would take it all in.
The entrance to Legoland was already awesome. So many legos. Legos everywhere. We walked through security, and we were in.
There were many sections of Legoland. The first section, Duplo land, was for toddlers, so my sister went there with my mom while my dad and I went to a Lego Ninjago section. It was pretty small, and we decided to tackle it first. If I could, I would explain every coaster, but since I can't, I'll hit the "high points" (though every point felt high).The Lego Ninjago section was mostly a game where you had to avoid the lasers, though there were some amazing life sized statues of the characters. On the way, there were some Lego building stations, but we decided to skip them. Instead we went to an Arctic (?) themed area of the park. Why it was themed that way, I have no clue, but that place had an amazing roller coaster. We also went on a cool ride where robots flew you around in chairs, and you could even customize the robot's movement. After that, we went to a wild-west themed area of the park, though none of the rides really stood out to me (there were a lot of roller coasters, however, there was a haunted house – it wasn't scary). There was a castle theme in another section, and though the thrill of going up and then down on a roller coaster, adrenaline spiking and crashing would be unforgettable, we hadn't even got to the best part yet. Legos.
To be specific, Miniland. If I only had one hour in Legoland, I would go to Miniland. Legoland's Miniland is like a park itself. Nyhavn, Taipei 101, Bergen, the airport, all miniaturized, in Lego. When I arrived, I was speechless. It was a "Wow." attraction. It felt impossible, yet I saw the world in front of me. I knew the bricks were glued together, but it was still a wonder. Even the airplanes in the airport moved around. It was so intricately detailed. I could see small people walking around. As someone who hadn't had a similar experience, it was truly breathtaking, especially because we had visited many of the real life replicas.
We even saw the square we passed through in Copenhagen. It was a special place to say the least.
Did I mention there was a Star Wars section? For any Lego Star Wars fans, this is a can't-miss place in Legoland. I wish I knew more about the movies because even I was captivated by the ships of a galaxy far far away.
If I had more time, I would talk about all of the towns, space shuttles, and waterways that were hidden along the way. Clearly we didn't have enough time. We were getting hungry, and after eating, we would be short on time. We decided to go on one last ride in Miniland (there were rides, such as a safari ride we visited), and it was a boat ride with replicas of the Taj Mahal. Pretty nifty, I'd say.
We were getting hungry, so we ate, and the food was pretty good (it was also very expensive). We were on a timeline, though, because we wanted to see the Battle of the Brick, an event within the theme park. A tip to anyone who wants to visit a theme park in the near future: plan ahead. Try to reduce walk and wait times, and try to maximize activity. Most importantly of all, look for events. Every theme park has at least one, and they're usually worth it. This time it was in an arena where the Battle of the Brick would be fought. There was a huge crowd waiting to get in, but the stadium wasn't short on space either. The show was entertaining too. There was magic, battles, and a golden brick. What would've taken it the extra mile would be the theme. I thought the connection between the jousting and the Lego was quite flimsy, unlike the stronger performances by Seaworld (which really has some amazing events), and Disney. It was a worthwhile use of time anyways.
We then returned to Miniland. We were almost done with the park, and that was great, because we were running out of time. The last area to cover was pirate land, which we covered last for two reasons. First was its distance from the entrance, and second was the high number of water activities. Getting wet is always the last thing you should do: nobody wants to be freezing cold for the whole day.
The activities were enjoyable, and of course water made the rides all the more thrilling, but I was glad we didn't spend the majority of the time there. Clearly Miniland was much more fascinating.
My sister had a delightful time in Billund. Duplo land was right for her. She got to play pretend, go on light merry-go-rides, and even enjoyed a small dropper. For any kids reading this, I really recommend a detour to Duplo Land if you have a younger sibling. It's worth it.
We ended our trip at the gift shop. I got a lunar lander, and my sister got a Duplo toy. I still have the toy with me, but just taking the memories of Legoland with you would be adequate.
And so our trip to Denmark (and Europe) concluded. The stark difference between scenic Nyhavn, and the action of Legoland was something to behold, but both were worth the time. I have no regrets.
Tips:
Visit either Legoland or Tivoli Gardens – they are both unique theme parks.
Check out modern Copenhagen. It is very close to Nyhavn, and there's half the crowd.