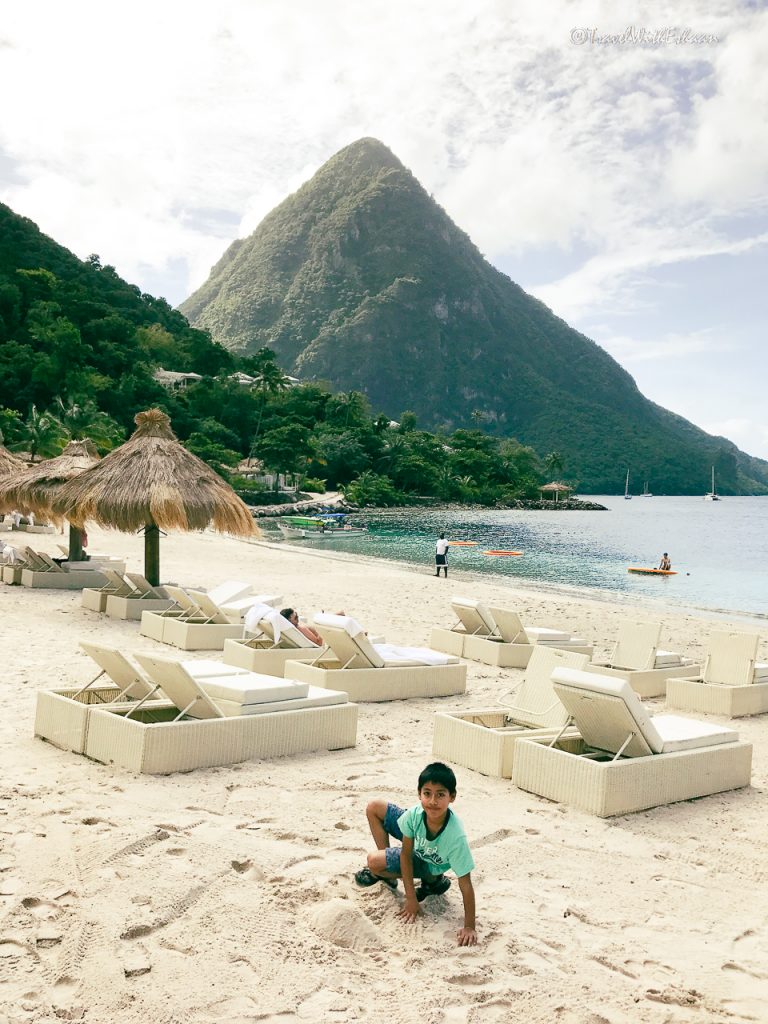 We visited St. Lucia in December of 2017, a year after visiting Dominica, and just after visiting Martinique. Instead of using the local ferries, as we did on our previous trip to St. Lucia, we opted for the plane, so that we didn't throw up. The plane we were on was from a local airline, and therefore was very small, and rightfully so, because it was a fifteen minute flight. It landed in George F. L. Charles Airport, one of the two airports in St. Lucia. We were at the smaller airport, but it was right next to the beach, and was a nice, authentic place.
We didn't do much in Castries, except for getting a 4×4 car for the journey through the mountains of St. Lucia, the Pitons. We got a good view of them from the beginning. They're tropical mountains, not too tall, which means they're also covered in flora. The green mountains of St. Lucia would haunt us throughout the trip, and this would just be a preview of the beautiful sights of the mountains.
Unfortunately, the Pitons are also extremely hard to navigate with limited infrastructure, which meant that even though we weren't very close from our resort hotel, it actually took us three hours to get there. The drive was worth it though, because we could see the majestic Pitons, which resembled Hershey kisses. At the end of the trip, we saw the town where we would be staying, which was a small place with a population in the thousands. It had a wonderful beachfront, and perhaps the best view of the Pitons in the country. It was a great place. We put our bags in the resort, and then checked out the beach, which was on par with Carribean standards: soft white sands, calm waters, and a wonderful view to add to the amenities. What else could you ask for from a beach?
We spent most of our first day at the beach, and we chilled, making sandcastles and taking pictures. The next day, we amped up the intensity. The first thing we did was relax in the resort. We checked out the amenities, which included parasailing and swimming. I swam in the pool, and we got some great photos of the Pitons.
We then returned to beachgoing. There wasn't much else to do, and we came to St. Lucia to relax. We then returned to Castries, since we needed to go back home. Castries is a much more active place. We watched a few guys play cricket on the beach for a while. We talked to them, and they were actually from Guyana, having come to St. Lucia for work. They were very friendly, and without us even asking, they gave us a few Guyanese Dollars as a souvenir. When my dad said we were hungry, and asked if there were any restaurants nearby, they showed us a nearby one owned by another Indian. Throughout the Caribbean, we've seen many instances of such kindness.
After eating, we went back to the airport, and boarded the plane to Martinique.
Tips:
Visit the Pitons, because they are extraordinarily unique, and because most cruise ships don't visit there. If you do visit, you will have to drive, because there isn't any better way to get around (also driving is on the left hand side)
St. Lucia uses the East Carribean Dollar
Rastafarian culture is prominent in St. Lucia, so don't miss out.