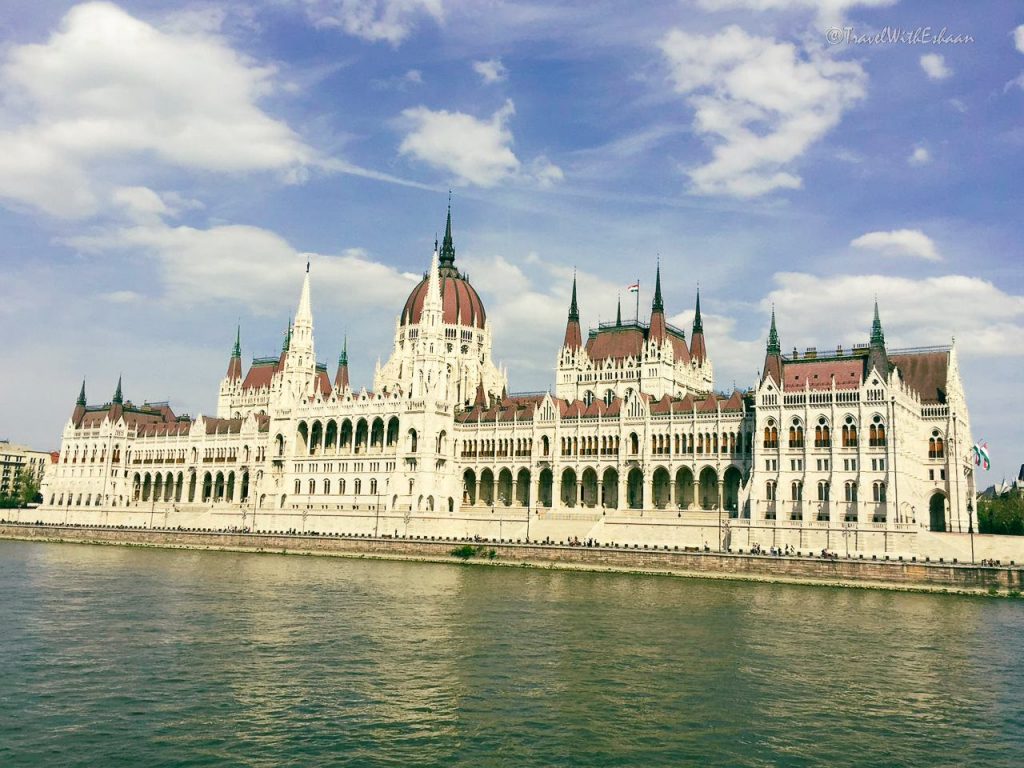 We've had two visits to Hungary, both to the capital, Budapest. Budapest is a place where you'll never get bored with its many wonders and things to see. We had two trips to Budapest. Our first trip was a day trip in 2016. During that trip, we only used public transportation, and as usual, we would be using Europe's exemplary train system. Budapest's main train station is one of the best in the world. It is a big and modern place, with glass covering the roofs, marble pillars, and stone floors. By modern, I mean it would've been modern in the early 1900s. From the outside, the train station is also a beauty. It is an arch filled with glass. On the side are two buildings, which look like small palaces. We decided to take a big bus tour through the city, so that we wouldn't have to walk around the city. We drove around the city, and saw some sights such as the Great Synagogue. Once, 25% of the population of Budapest was Jewish, but after the Holocaust, it dropped to 9.1%. Truly horrific.
We continued towards Castle Hill, where Buda Castle is located. You could either take a cable car up the hill, or you could go on a hike, so we went hiking.
The view of the Danube was seriously good. We could see the extremely ornate parliament building, which we would get a better view of soon, and we also saw many different fancy apartment buildings from Austro-Hungarian rule. We could also see the Szechenyi Chain Bridge, a large bridge crossing the Danube. We got a group picture, then continued up the hill, which had pewter statues of men, horses, and even a bird. We finally moved on to Buda Castle. It was a large, copper domed building with two wings, similar to the U.S Capitol. Around it were many vantage points, from which tourists could view the Danube, and many gardens. It was a pleasant place.
The next thing we did was a boat tour. It was a searing hot day, and we hoped that a cruise on the Danube might cool us off. Plus, the views of the Danube from Castle Hill convinced us that it was worth taking the tour.
Along the way, we saw apartment buildings, more buildings, and even an island. Finally, we reached the Parliament building. It might just be my favorite building in Europe, if not the world. It looks a lot like a castle. It has many white spikes leading to the central dome. The two rows are half window and half wall, letting in lots of light, and the genius geometric design makes it all fit in. During the tour, we learned about the food and culture of Hungary. We also crossed the Elizabeth bridge, which is a suspension bridge similar to the Golden Gate or Brooklyn Bridges. After that, the boat turned back, and we returned to land. We went back on the big bus, where we saw the opera house, which looked like a cubelike apartment building if it weren't decorated to the last inch.
We sped past the squares, taking pictures on the way. There was a reason we were in a rush: the train would be leaving in a half-hour. By the time we arrived at the train station, we had 15 minutes. My dad wanted to take pictures; I had no choice other than to pose. When he was done, I rushed to the station, and luckily, we were just in time.
We returned to Budapest two years later. Things had changed, since my sister was born, and I was a little older. We were also going on a road trip. We began, as last time, at Buda Castle. We got a great view of Budapest, as before, and we watched the changing of guards at Buda Castle, a special experience. The guards uniformly did a march, and then switched groups. Simple, but fun. Near there, we also ate ice cream at Ruszwurm. Their ice cream was amazingly mouthwatering, with cookies, fruit, and vanilla. Ruszwurm is close to the Dracula Labyrinths, so we visited the place where Count Vlad (Dracula) was imprisoned. If it weren't for the slightly eerie lighting, it would be an extremely frightening place. The frigid cave air and the unkempt nature of the dungeon just made it all the more heart-stopping.
We then went to Matthias Church, which is nearer to central Budapest. From there, we visited the Fisherman's Bastion, an area with beautiful churches, and a wall with a near perfect view of Budapest. The towers of this military wall where we could see a story-tale tower. It was white, and made of huge cylinders, each their own tower stacked onto each other. They all had arch-like windows, and the tallest of them had a sort of cone-crown top on it.
Afterwards, we went on a river tour again. It was the same experience, but I enjoyed the safety labels. I quote directly. "With bus in motion, is strictly prohibited persons standing on the upper floor."
It was nearing sunset when we were finished with our tour. From there, we ate, and then walked around the Danube waterfront. There wasn't too much to do. We took pictures of Buda Castle at night. We must've taken hundreds or thousands of pictures of the golden glow of the city lights over the complete darkness of night. It was a special view, and people knew it: we were part of a huge crowd just waiting to photograph the city. By the time we left, it must've been 10:00 PM in the night. We got in a taxi owned by a Russian man. He told us about life in the Communist era. It sounded odd, alien to a person who'd never experienced such a time or place. We slept, and the next day, we drove to Belgrade.
Tips:
Dracula Labyrinths: If you've read or are interested in Dracula, the Labyrinths are a good place to visit
River Cruise: The view of the Parliament building makes up for the price, and getting a view of Budapest's architecture is an added bonus.