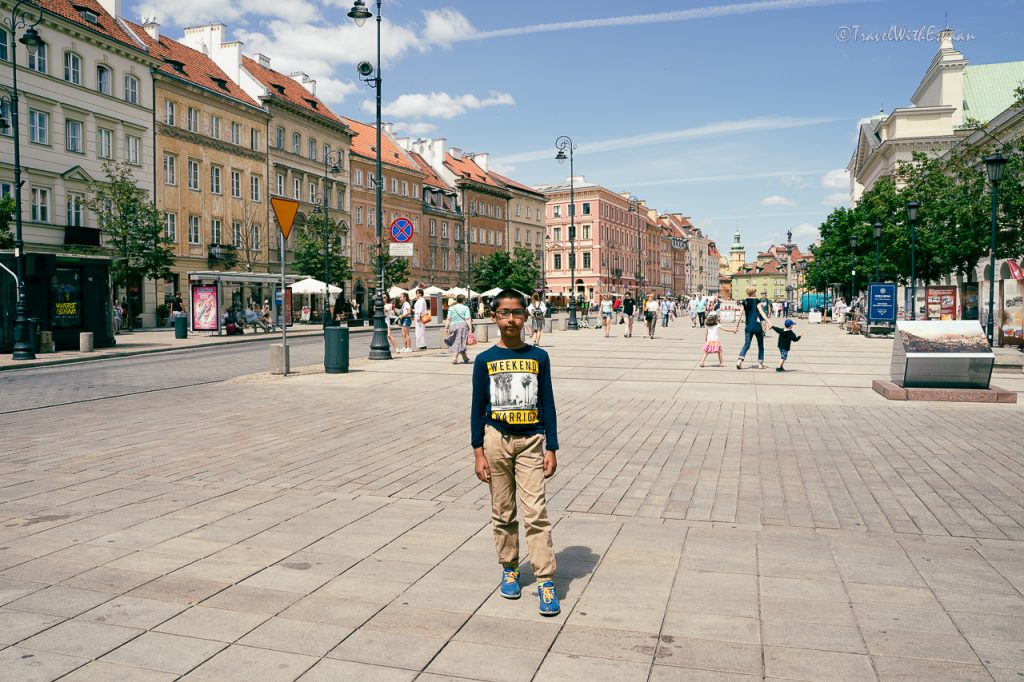 We travelled to Poland twice. Our first trip was to Szczecin, when I was merely six years old. Our second trip was to Warsaw, when I was nine. Age really does make an impact. Both trips to Poland took one day, and the first one was quite short. We spent a few hours in the streets, ate at a restaurant, and left on a bus. The only thing I can clearly remember was winning my first geography prize. The bureau of tourism made a quiz for kids nine and above, but they let me participate. After getting a good score, the people there gave me a pencil and some other things. It was a long time ago.
Our second trip was shorter, but it certainly felt longer. We had a twelve hour (from 8:00 AM to 8:00 PM) overlay between our flight from Riga to Warsaw, and our flight from Warsaw to Copenhagen. The goal was to see as much of Warsaw as possible. We also had advice to go to an E. Wedel store which sold great hot chocolate from a man we met on the way to San Marino. We had formulated a basic plan, and it was to: get to the city center, go to the major sites, and finally, walk around.
We faced an issue even before we reached the airport. It has happened so many times. I guess it's just something that happens in airports. We didn't get our stroller and car seat. There is a different section for oversized baggage, which gets lost a lot. It's a big headache, but that day, it was worse. We had to wait a solid two hours to get our stroller. Two hours. Ugh. When we got outside, we put our valuables in an airport safe. For layover trips this is a good idea – you never want to travel with luggage. After that, we hopped on a bus, and got off a few stops later, near the shop.
We saw a whole lot of beauty. Statues littered the tourist-heavy old town, on wonderful streets. One of them was the E. Wedel shop. It was a small place, only a few tables, and so we took a seat and ordered some hot chocolate.
"How'd you like it?" my mom asked.
"It's good," I replied. "It's good" summed it up. It wasn't magical, but it was a very tasty hot chocolate. We also ordered a dessert, which was also pretty nice.
And we were off again, finding more beautiful places.
We saw some museums on the way, but usually it isn't worth looking in them, unless they're internationally acclaimed (such as the Natural History Museum in D.C). I was left walking around, reading billboards, and taking photos. We covered more ground, passing squares, finding magnificent churches, and looking around. We saw a lot, and this was probably because we were in Castle Square, one of the most historical and scenic squares in Warsaw. It was great.
We ate food nearby, went to a market (not for long though), got a map at a tourist site, and chilled around. It was nice, though it was a bit hot.
Eventually, it had to end, as we couldn't stay in Castle Square forever. We took a bus to a more modern area of the city. My dad showed us some historical sights. First, a monument to Pope John Paul the Second. It had a big metal cross, and some very interesting information about the pope. Second, one of the largest Soviet buildings in all of Warsaw. It was a huge clock tower that looked a lot like a cathedral, but it was actually Soviet, and I learned that it was called the Palace of Culture and Science. Third, some really beautiful gardens with rows of roses, and other flowers. At that point, my sister got distracted.
"What's there?" I asked. My parents had gone to catch my sister.
"A playground," my parents replied. My sister was getting a little bored, so my dad and I would go and look at more sites, while my mom would stay with my sister.
The plan was to find a Chopin monument, and look at Soviet architecture. After searching the area, we didn't find anything, so we saw architecture instead. The stark contrast between the fancy old town and the hyper-utilitarian buildings towering above the Warsaw streets really highlighted the impact of the Soviets. Sometimes it's nice to look past the tourist attractions, and our walk also did that. We learned a lot about Warsaw.
… And then we were back on the bus back to the airport. It was a short trip, yes, but I learned about Warsaw, a great city. A historical city. A modern city. It was a good trip.
Tips:
Make sure to visit E. Wedel for some nice hot chocolate.
If you're interested in music, don't miss out on Chopin's house.