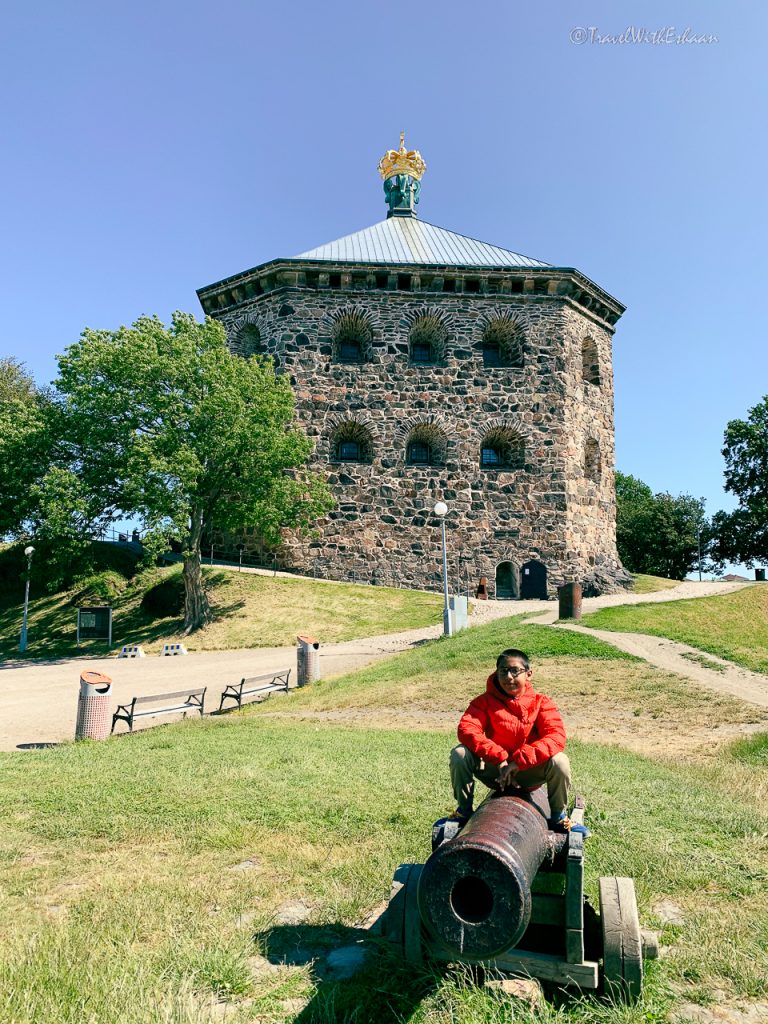 Our trip so far had been quite crazy. In fact, the last few days were mainly composed of long drives, crazy flights, but also of breathtaking views. We wanted a break, and Gothenburg served as that. A great city with such a great atmosphere, that I could recognise it from when we arrived.
But the first time my feet set ground in Sweden wasn't in Gothenburg. It wasn't in any city, in fact. It was in an inconspicuous stop in a parking lot in front of an IKEA. We were on our way to Norway, a grueling drive that took hours. We wanted to see the inside of a Swedish IKEA. We toured the spacious inside with labyrinthine twists and turns sure to get us lost at one point or another. We looked at the furniture and the chairs, but what distinguished the Swedish IKEA from its American counterpart was the food court, which included a buffet serving as our lunch. We even got ice cream while my sister enjoyed the play area.
We weren't staying in Gothenburg for long, only a day, so we put our bags in our Airbnb, and went exploring. We parked our car nearby, and decided to walk around the city. It would be a good break from the chaos. First of all, cinnamon buns. Tasty, fluffy, gigantic cinnamon buns. The cafe that sold them was pretty popular (almost full), and so we went and looked inside. We ordered one, which actually tasted great, and when we couldn't finish it, we took it for the road. The area was great too, and was a really scenic place to walk with its cobbled streets. We strolled in the relaxing atmosphere for a while, really indulging in the wonderful weather, but we really needed to go sightseeing. My dad pulled up a really useful GPS app, and using it, we took the beautiful (but cold) trip to a wonderful Swedish fortress. It wasn't large, just a stone structure with some weaponry, but its position on top of a huge hill made it look so imposing and regal that we had to see the view from the top, and we found ourselves climbing to the top.
"Maybe we should go down," my dad said. The summit looked a lot higher, and the gently sloping trail didn't seem likely to meet the now larger fortress, but I said we should persevere. We reached the top, and the view was rather good. It wasn't remarkable by any means, but I didn't expect much from a city not renowned for its history (from my admittedly narrow perspective). I would visit it again.
Now for some play. We looked through the sights of Gothenburg on a nearby board (look for a map to find good attractions), and we decided on a zoo, mainly because my sister would be entertained. For her, most of the trip was quite boring: as you might imagine, there wasn't much for her to do in the fort. It was good to find a place where she could have fun.
And we started right away. Walking through the wonderful zoo, examining animals and having fun. We strolled through the area, and I noted the interesting design of the zoo. It wasn't exactly a zoo: it was more of a park with the aspects of the zoo. Unlike more run-of-the-mill designs with exhibits packed, conserving space near the city, the design we were met with felt more free-ranged. There were literal fields in the middle of the zoo, which were used as picnic spots, and we often had to run to see the animals, which were also special. Not the range of animals you would find, for instance, in the Smithsonian Zoo in D.C, but a respectable variety nonetheless – elephants, frogs, birds, it had it all. We passed the animals, my sister got to play in the petting zoo, and the park-friendly design of the zoo actually included a playground. Sometimes you just have to get away from the intense, deep history, and enjoy the wonders of today.
We had to return to the car in the end, and so our day ended. Or did it? Our car, unbeknownst to us, incurred some sort of penalty. I think we only paid for 2 hours. Whatever we did, we had to pay a 700 krona fine, which was about 70 dollars, but it was a real headache translating the words, and then sending the money.
We visited a police station to pay the fee, and when we arrived, the station was closed. Instead, we sent the money to our Airbnb host, and she was extremely helpful, and paid it off. It was a real headache, and I learned to read the fine print.
Though we left Sweden in slight disappointment, my image of Sweden is a positive place. The air in Sweden was friendly, and I could see why it's one of the best places to live in. It's a nice country to visit, with a deep history, and a friendly atmosphere.
Tips:
Make sure to get some cinnamon buns from central Gothenburg – they're worth the price
Try to stop at an Ikea on the way. You'll easily see the Swedish difference.