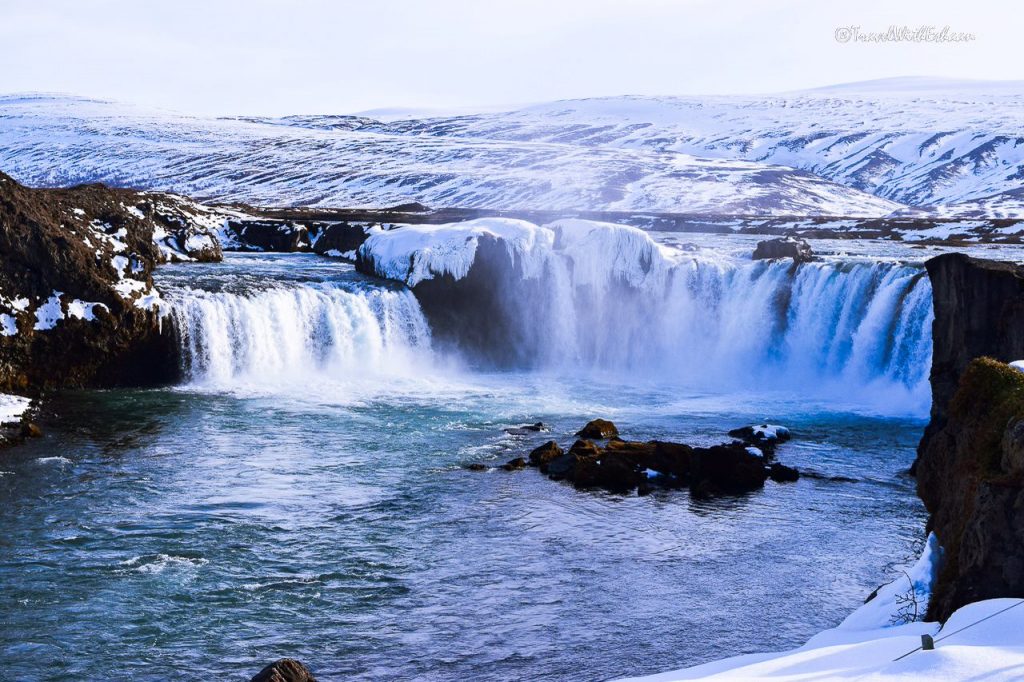 Iceland is famously beautiful. We came to Iceland because of its beauty – its beautiful mountains, the waterfalls, scenic drives, geysers, and huge whales all drew us in. We also decided to go farther than the Golden circle, a drive containing a small area of Iceland. Instead, we went all in, going around the perimeter of Iceland. Our timing was also out of the ordinary. Instead of visiting in summer, we visited in May. There were two main advantages of this. First was that the snow hadn't melted. In summer, many mountainsides melt, which makes the view a little less astonishing. The second was the reduction in crowds. Since Iceland is such a huge nation, it was crucial that there was minimal traffic throughout the trip to save time. There was a disadvantage of visiting in May: many fjords and glaciers were closed.
We arrived on WOW Airlines at Keflavik International Airport. When we were in the airport, we forgot our car seat, but the employees at Keflavik let us inside without even asking for our passport. We then got our rental car, and dropped some things off at the hotel. The first thing we did was whale watching, so we went whale watching in Reykjavik, which went horribly. It took around 3-4 hours, and though we got some good views of some mountains, we didn't see a single whale. We saw dolphins, but barely, and I think I missed it. It wasn't worth it, especially considering it cost us a trip to the Blue Lagoon.
After that, we did a little sightseeing in Reykjavik. Hallgrímskirkja was the name of the church we visited. It was literally a line. Imagine the graph y=1/x2. Then shade the graph in gray, and add a top, and you get the basic idea of what the church looked like. It was really an amazing sight, and a great example of modern architecture.
From there, we got a good view of Reykjavik. Reykjavik shouldn't be considered as a capital city. It is more of a capital town. Yes, there were some big buildings, but there is no real downtown in the same way Manhattan is the center of New York. It feels more like a suburb for a city that doesn't exist.
That was the end of our urban adventures in Iceland. From then on, we were in practical isolation, so before we left the city, we bought some chips and popcorn to snack on.
The next day, we began our drive. The drive was half of the fun. I got to look at hundreds of mesmerizing snow capped mountains, and a completely barren landscape with traces of neither human nor animal activity, which somehow never got monotonous. We stopped at the Hvaleyri Waterfront Trail, and took some pictures of the mountains, then continued on the mountain trail.
Occasionally, we would stop to get out of the car and take pictures. Once we got out of a car to look at Icelandic horses. There were also many small waterfalls along the drive, because the snow was beginning to melt.
We also visited Hellnar Arch, an extremely beautiful landform similar to the sandstone arches in Arches National Park. The only difference was that the Hellnar Arch was made of stone.
Our final destination for the day was Deildartunguhver thermal spring (welcome to Iceland, where your name is also a three page essay). It was really hot and steamy, so it was hard to see much of the spring, but we did see the geothermal power plant nearby.
The next day, after a large breakfast at the hotel, we got back on the road. It would be quite a long drive to our next destination, Godafoss Waterfall. But the North of Iceland made things worth it. Mountains that in nations such as Switzerland would be major tourist attractions are left on the side of the road, without anyone in sight.
Finally, we reached Godafoss. Was it worth it? Yes.
Godafoss was a downscaled version of Horseshoe Falls. If Horseshoe Falls were in an icy wasteland. May was the best time to view the falls too. The falls were still frigid, and the landscape hadn't completely thawed, yet the falls were gushing as strong as ever.
It was truly amazing. Godafoss also has a history and legends behind it. When the people of Iceland converted to Christianity, they threw their statues of their pagan gods in the waterfall.
We also went to another group of hot springs. This one was called Namafjall. The hot springs looked like small boiling lakes (because they were), and the stark landscape made it look better.
That day, we also visited Akureyri, the 2nd largest city in Iceland, which has a population of 10,000. There was a mall, where we shopped and restocked. If you do the perimeter trip around Iceland, make sure to stop at Akureyri to refresh, since you won't have this opportunity anywhere else.
One reason why we were able to visit so many places was because we had 16-18 hours of sunlight per day, meaning that no matter how much we explored, we were still sleeping before dark. We spent the night in our hotel, which was located in Husavik, another city near Akureryi.
The next day, we first looked around Husavik, and took photos at the rather unremarkable church. If you do whale watching, do it in Husavik, where there are more whales. After that, we went back on the road. Our next stop was Hoffellsjokull Glacier, and we were hoping to do a glacier walk.
It was a long drive. We were going all the way from the North to the South in one day. It was a pleasant drive, though, and we saw a lot of the mountainous landscape of Iceland. We were now in the South, in the glacier. The great thing about visiting in May was the crowds. Or the lack thereof. We literally had a whole glacier to ourselves, icebergs and mountains included. We got a good view of the calving glacier, but we didn't do a walk, since I was 5 years old at the time.
After that, we went to see another waterfall, this one a little less regal and forbidding than Godafoss (foss means waterfall in Icelandic). Perhaps it was just the sidekick to the main character.
The next day, we went to Jokulsarlon, which is an icy glacial lake in the south. We took a boat tour, and saw the lake for itself. It was like an extremely small sea topped with budget versions of Arctic or Antarctic icebergs. Not giant, but still a nice size, and light blue. It was a cloudy day, though, so we saw a little less.
We also saw the glacier, which was really cool. It made sense why they were called rivers of ice. Not because I could see the glaciers move, but because they truly looked and felt like rivers. They were of the same size, and they dominated the area.
We then moved into Vatnajokull National Park. The waterfall we visited was called Svartifoss, and it was a beauty. It wasn't just the magnificently healthy and large waterfall that attracts one's eyes. It is also the background: hexagonal basalt columns similar to the Giant's Causeway in Northern Ireland.
For our next (and last) next day, it was waterfall time (again). This time, our destination was Skogafoss falls, an extremely satisfying waterfall. Why? Because the water falls in a few parallel lines. The waterfall itself is located on a dip in a mountain, and it falls into a huge, picture perfect lake. It looks in place no matter the size. From a huge mountain to a small dip in the creek, Skogafoss would fit in. It is an interesting waterfall in that way.
After that, we went to Kerid Crater. We were back in the Golden circle, so the crowds were back, but the crater was worth it. If there was once life on Mars, it would look like Kerid crater. The volcanic rock was a fiery red, similar to the Martian surface. In the center of the crater was a lake. It was an especially vivid teal, and around the lake, moss surrounded the sides.
After that, we went to Geysir, where there were – you guessed it – geysers. If you've seen Old Faithful, or any other geyser at that, you'll know what Geysir's geysers looked like: timed fountains – or a water volcano would be two ways to describe Geysir.
Afterwards, we went to Gulfoss, yet another waterfall in Iceland. Gullfoss is basically what you'd get if you warmed up Godafoss a little and split it in two. So basically, it was cool to look at, but it wasn't icy like Godafoss.
And finally, we were done. We had a few more hours, but we used them up by shopping around in Reykjavik. We did return to Iceland, but not intentionally. We were using WOW airlines to get from Berlin to Washington D.C, with a layover in Reykjavik, but when the flight from Berlin to Reykjavik got delayed, we missed our flight to D.C. The airline gave us a hotel for the night, and we got a later flight as compensation, so we didn't lose anything. Even better, we got time in Iceland. We ate dinner, then took pictures at sunset (10:00 pm). In the morning, we got some more pictures near the coast. Then we got on our flight to Washington D.C.
One of my favorite parts of the Iceland experience were the hotels. I woke up each day to a huge breakfast, with almost infinite selection. Even from the safety of our beds, we couldn't escape the beauty of Iceland. The morning revealed ice and snow with ice capped peaks in the distance, a winter wonderland in the middle of spring.
In conclusion, Iceland is a beautiful nation that should be visited thoroughly. If I were to visit the nation again, I would go whale watching again, this time in Akureyri, and I would see more fjords and glaciers. A separate trip to Iceland should be allocated to the winter, when the winter lights illuminate the sky like a celestial fire.
Tips:
Bring food: Shops are sparse in rural Iceland, so either buy food before the trip, or buy it in Reykjavik.
Credit cards are the default mode of payment in Iceland.
Take a winter jacket: This is a no-brainer, especially because sub-zero temperatures are commonplace on glaciers, and universal during winter.