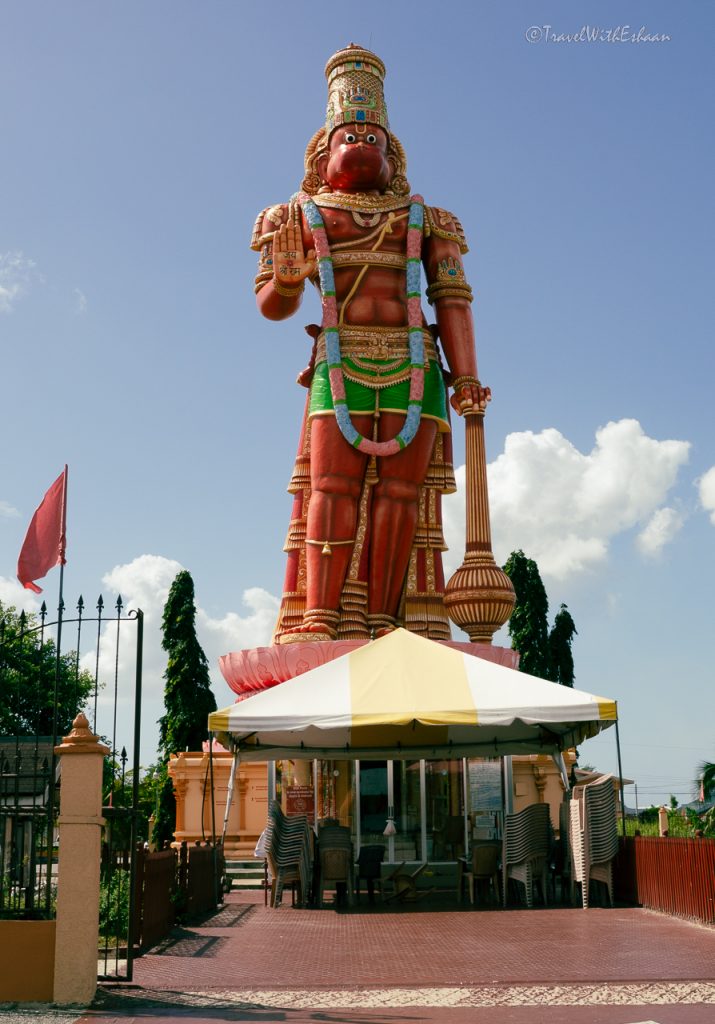 Trinidad has a special connection with my dad. No, it isn't the last three letters. First is V.S. Naipaul, who was my dad's favorite author. He was born in Trinidad, and one of his most famous books, A House for Mr. Biswas was set in the Lion House, which is located in Chaguanas, Trinidad. Indian culture is also a huge part of Trinidad culture, as indentured immigrants from India came to Trinidad once slavery was outlawed, and seeing Indian-Caribbean experience would be unique. All of these are also reasons why we didn't visit Tobago, the more commercialized resort island.
We began at the port, where we went through security, the usual deal. Then we hired an Indian guide to take us around Trinidad.
Our first stop was V.S Naipaul's house, which didn't look too different when compared to other houses. Just a cube with a few windows and a door. Nothing more, nothing less.
Afterwards, we drove to Chaguanas from Port of Spain. Chaguanas has lots of Indian influence, and therefore, we could see temples, Hindu flags, and Indian food in restaurants. Our first stop in Chaguanas was the Lion House, which was Naipaul's grandfather's house. It was quite underwhelming, located in a street in central Chaguanas, and quite inconspicuous to the common eye. It was falling apart, with vines covering the white walls. My dad took some pictures there, and there was a sign about the Lion House, but the inside was closed, so we moved on with our guide.
After that, we ate. We decided to eat in Chaguanas, where there was some good Indian food, roti with curry. After that, we visited a temple. It had a huge Hanuman statue (Hanuman is one of the Hindu gods), and we prayed in the temple. After that, we went to the temple in the sea, a place where indentured immigrants would arrive from India. The Middle Passage was when slaves came from Africa to the New World. The conditions on Middle Passage would be similar to the conditions on the ships that brought the immigrants. Many died on the journey, even on the last leg. Even the immigrants who arrived weren't treated well. The island the Temple In the Sea is located on was built by one of these laborers, who built it as a place to pray.
After that, we returned to Brian Lara Promenade, which is located in downtown Port of Spain. Brian Lara was a famous cricketer, and naming one of their most important streets after him is a sign of how worshipped cricket is in the West Indies. There, we saw the Parliament building, which was a little underwhelming. Unlike the U.S. Capitol building, the Parliament building was basically a six story building. In fact, if it didn't explicitly state that it was the Parliament building, I might've not noticed it.
After that, we returned to the cruise. Trinidad was definitely a unique cultural experience (much more than beach), and it was definitely more enjoyable than what we would've done in Tobago. In conclusion, Trinidad was a great place to visit, with many unique attractions that you wouldn't see in any other Carribean nation.
Tips:
Get a guide: the roads are confusing, and public transport is inadequate, especially because there aren't signs to mark tourist attractions, so plan to get a guide.
Food: Try some fusion food – it's unique, and part of Trinidadian culture.
Venezuela: Many people take a boat trip to Venezuela from the island, so it's an easy way to visit the nation. We didn't take the journey, however.