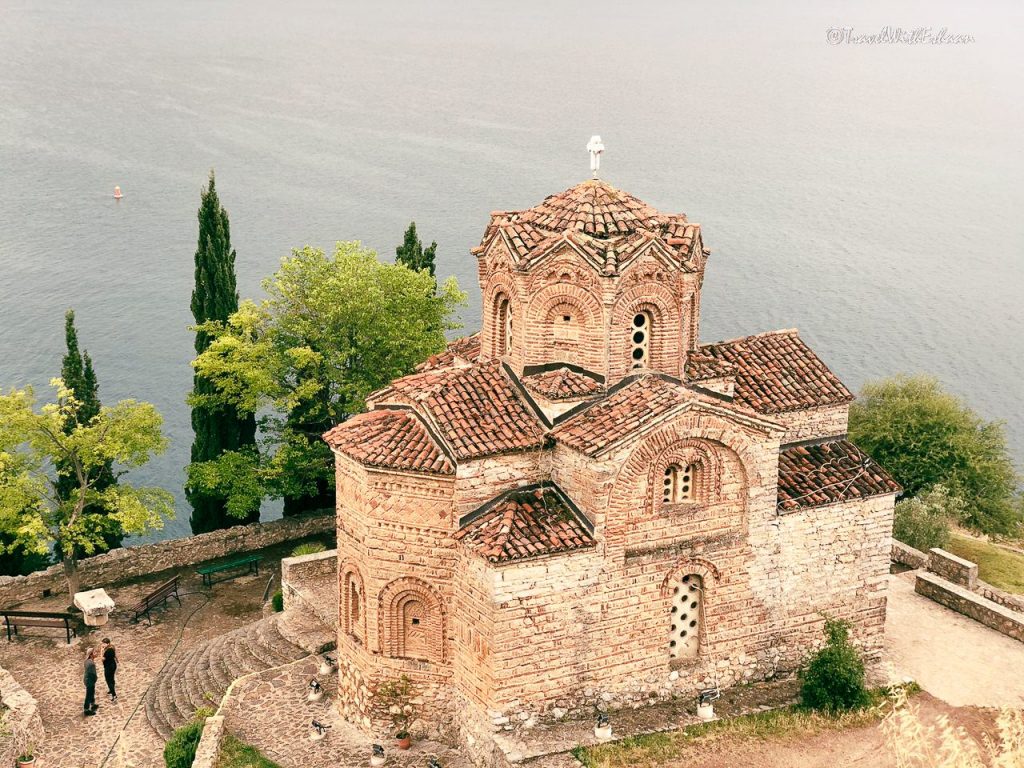 If you want to visit a Balkan nation, make it Macedonia. I will be using Macedonia for Northern Macedonia because it is easier. The unique Orthodox and Islamic influences from the Ottomans and the Slavs really pulled us towards Macedonia. Since Macedonia left Yugoslavia peacefully, many of its earliest churches are still intact. For example, St. Sophia's church in Ohrid is one of the most beautiful churches in the whole of Macedonia. It was built in the late 800s, during the Byzantine empire. Another great thing about Macedonia is its beautiful lakes, such as Lake Ohrid. They are beautiful, and amazingly pristine. Finally, my dad wanted to hear about Mother Theresa, who was born in Skopje.
We arrived at Skopje from Belgrade, though we stopped at Sofia, Bulgaria on the way. In Skopje, we first visited the Memorial House of Mother Theresa. The memorial building itself was unique. It felt more like four different houses stacked onto each other, and less like just one building. But there was another building right next to it. It was fancier, and had a gold dome, quite like a church. Was it one? Yes it was. As was the memorial house itself, and the Macedonia Square, which we would visit later, the Orthodox church nearby was rather new. It looked cool though.
I read about Mother Theresa from the signs, and saw a statue with some of her quotes (Mother Theresa was a Catholic nun/missionary who received the Nobel Peace Prize for helping the sick and poor in India). Then we went inside. Still not knowing much about Mother Theresa, the memorial wasn't the most interesting. It mainly showcased some of her accomplishments, and told about what she did, which gave me some context. All in all, I would've enjoyed it more if I had done some research beforehand.
Then we moved on to Macedonia Square. If the country were a little more dictatorial, Macedonia Square would feel like Ashgabat (never been there), or Pyongyang (thank goodness I haven't been there). If it weren't for tourists, the area would be unused, empty. What really drew parallels to North Korea or Turkmenistan was the Warrior on a Horse statue. A quick search confirms my suspicions. The statue feels akin to the Monument of Independence in Ashgabat. I definitely enjoyed the Mother Theresa memorial more, but the Macedonia square had a certain imposing charm to it.
The rest of the day was spent going from Skopje to Ohrid. The plan was to use Lake Ohrid as a base. If we wanted to, we could visit Albania, Kosovo, or Greece from Ohrid.
The drive there wasn't half bad. In fact, it gave some powerful insights into the cultural geography of Macedonia, and we got to see some amazing views. We started off with Matka Canyon. Near Skopje, the Matka Canyon is amazingly beautiful. We took a stop at the canyon, which was basically a flooded mountain range, and took some pictures. The Alps is the most famous mountain range in Europe, but the Balkans are very underrated in mountainous beauty.
The drive to Ohrid was quite beautiful. We got to see many mountains, and churches, which were very unique, as they had a certain style: they were made of brown brick, and the tops of the church towers were like a flat pyramid with more sides. There were also mosques, which were more stereotypical. We also saw a lot of Albanian flags, as much of western Macedonia is part of Greater Albania.
We then arrived at Ohrid. The Airbnb we were staying in was actually previously a communist building, but the owner changed it. And it was done well – I assumed the house was built this century.
The first thing we did in Ohrid that morning was checking out Lake Ohrid. Lake Ohrid is one of the most beautiful lakes in the world with great views of mountains, and clear waters. What really set Ohrid apart was its historical churches, especially the Kaneo church, which was a prime example of the Macedonian Church. From a nearby hill, we got a wonderful view of the lake.
After that, we walked in the old town of Ohrid. Ohrid supposedly has 365 churches, but it might have more. Throughout the old town, it wasn't hard to find these old Macedonian Churches. It was worth the time to walk around, especially because of the wonderful lake, which complemented the views of the city itself. We also wanted to go to Albania, which was only a ten minute hike from Ohrid, but decided against it due to safety.
The next day, we went to Greece. The idea was to go on a day trip, but near Athens, someone broke into our car and stole our passports (as well as our IPad, phone, and laptops). They also broke the windows of the car. In the end, we managed to get back to Ohrid (via Istanbul and Skopje), but we needed to get back to Skopje. The problem was that our car couldn't hold that much luggage, but the locals were very helpful, and in the end, we got a taxi driver to drive our luggage all the way to Skopje. It was a redeeming experience, and a break from all the commotion. Sadly, we didn't continue to explore the Balkans because we didn't have a car, so our adventures in Macedonia ended. We covered Macedonia rather well, but if we were to do it again, we would probably visit Albania, and try Albanian food.
Tips:
Roads: The roads aren't as good as they are in Germany, for example, so be prepared for a bumpy ride
Alexander the Great: Macedonians are passionate about their name and connections to Alexander the Great, so don't start arguments about him.